Stolen Away by Jennie Marts: Recently divorced from her abusive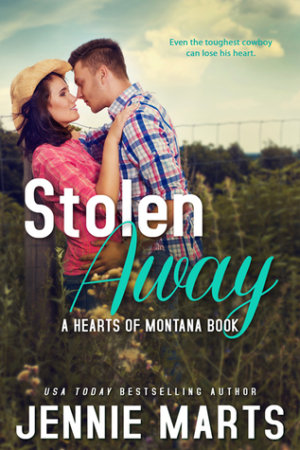 husband, now in jail, Emma's back home living with her dad, just trying to get along and keep a job without the nuisance of her ex-brothers-in-law. Little did she know her hero would come in the form of Cash, cowboy intent on staying away from love.
But as soon as Cash sees Emma drive up with a goat in the seat next to her, he can't get her out of his mind. The strength he sees in this fragile woman draws him in, and soon enough he'll do whatever he can to get her to see her own strength, and to protect her from her bullying ex-relatives. The one thing he won't do? Give Emma his heart.
But as Emma comes to stay on his farm and is drawn into his group of friends and family, the closer they become. And the more Emma knows Cash is the perfect man for her, the best man she knows.
"I'll just sit here till you fall asleep," he'd said. She should have been frightened to have a man she barely knew in the same room with her, watching her as she tried to sleep. But she didn't. somehow, Cash Walker made her feel safe.
In general, I just don't want to read a story with abuse, and I can't say I appreciate the man swooping in to save the delicate flower. Emma felt too weak for me, and I just had difficulty respecting her. Cash, too, is meant to be this hardass cowboy, but that's not at all what he is.
Instead they both fall hard and fast. What I did like was the not all the conflict came from outside sources. Cash definitely had his share of internal conflict, and while everything about this story was overly dramatic at one time or another, I did appreciate his struggle, at least. The writing on the other hand, just felt awkward and unpolished. Characterizations and conversations felt smarmy or overly dramatic at time which just kept me out of the story.
Overall, if you love the cowboy romance with a sweet, delicate heroine I recommend Stolen away. The love that grew –albeit pretty immediately—between them was most certainly sweet. And they really do make a cute couple.
Book Info:

Publication: September 26, 2016 | Entangled | Hearts of Montana #3
Elusive charmer Cash Walker is a tough-as-nails cowboy, except when it comes to the shy woman who shows up with a pretty smile, a wounded spirit, and a goat riding shotgun in her passenger seat.
Recently divorced from an abusive husband, Emma Frank has come home to Broken Falls, Montana. Lost, alone, and unable to escape the bullying tactics of her ex-brothers-in-law, she finds solace and friendship at the Tucked Away farm and with the handsome cowboy who believes in her and who helps her find her own courage.
There's a darkness in Cash's past that's kept him from ever letting anyone get too close, but he can't seem to stay away from Emma, who seems to be the one to finally break through his tough exterior and steal this cowboy's heart.