Stolen in Her Wedding Gown by Amanda Cinelli is a super exciting start to what I feel will be a fantastic mini-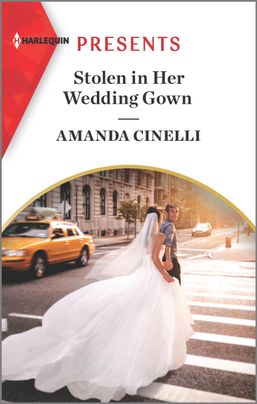 series about three Greek brothers racing each other to the Alter in order to obtain their inheritance from their duplicitous birth-father.
Once Eros learns about the conditions of his birth father's will, the satisfaction of beating his brothers to the alter drives him to ruin Priya's wedding to his step brother. Priya has complicated reasons for wanting to marry Eros's brother but life and Eros's persuasion contribute to Priya dashing off in the rain and leaving Eros's brother at the aisle. Rescuing the half-drowned rat, Priya, Eros delivers his ultimatum and next minute they are married instead.
Amanda Cinelli has really thought about the plot and devised a scheme in Stolen in Her Wedding Gown that is complex and exciting and opens all the floodgates that make a great Presents. There is greedy families, opulent lifestyles, dramata's personae, passion and all guns blazing in the war of the brothers. And the best thing is seeing how the brothers will be redeemed because according to this book – they are naaaasteee.
I really enjoyed this story. I enjoyed the plot, the excitement and adventure and the passion delivered. I give props to the plot and how the author has clearly tried to take the marriage of convenience troupe to another level to make it fresh and exciting. I can not wait to find out how on earth Ero's brother did manage to marry someone else and I'm also looking forward to finding out how brother 3 is finding true love.
Loved it, thanks for the adventure Amanda Cinelli! I very much look forward to the next two installments.
Book Info:

Publication: June 2021 | Harlequin Presents | The Greek's Race to the Alter #1
The Greek needs a wife…and he thinks he's found the perfect choice! This passionate marriage of convenience romance from Amanda Cinelli is filled with drama!
When the something borrowed…
Is the bride!
About to walk down the aisle of her Manhattan wedding, determined Priya realizes it's impossible. After the news Greek playboy Eros has just shared about her convenient groom, she can't go through with it. To save her father's business, she flees in her white dress…and weds Eros instead!
To beat his brother to the family inheritance, Eros must stay married for one year. Stealing Priya as his wife was the first step. Then he discovers her deepest secrets—and a burning mutual desire. What started as convenient suddenly got very complicated…