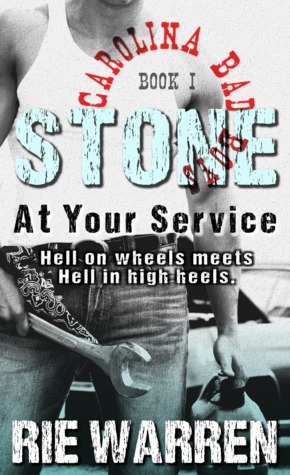 Stone: At Your Service (Carolina Bad Boys #1) by Rie Warren
Although Stone At Your Service, Carolina Bad Boys Book 1 is not really a true MC book is the start of an adventure that will introduce you the rest of the characters in this series and start you on one wild ride. This is Josh and Leelee's story.
Josh Stone is a mechanic, father to little JJ (Joshua James) and best friend of Nick Love, paranormal romance writer. He is honest, and hot, and loyal to a fault. Josh has sworn off love after his ex-wife walked out on him and little JJ. Josh is only out for a good time, no strings sex, no entanglement, not getting his heart broken or risking more hurt to little JJ. When his best friend Nick asks him to pose as his gay lover to help Nick keep up appearances at that Romance Writers week, Josh agrees. Now ya need to know that neither hottie is really gay, but Nick has a rep to protect and Josh will do what he can to help his pal, but what he did not count on was the beautiful, sexy, stunning Leelee Songchild.
Leelee has been burned before, Left weeks before her wedding by a fiance that turned out to be gay, she has sworn off love. She is a first time Indie Romance hit. New to the group of Nicky Love's romance writer hen friends, Leelee is immediately taken with the hot, sexy, stud muffin that is Josh Stone. But he is gay, and she will not be taken for a fool.
When sparks start flying between Josh and Leelee, when they keep getting pushed together, they give into the passion that is building between them. But Josh can't tell Leelee the truth just yet, and Leelee feels weak and hurt that she has given in. When a pushy publisher, threatens and stalks Leelee, Josh, Nicky, the Hens, and the Writers Widows will stop at nothing to protect Leelee,
The story had humor with the situations that Josh, Nicky, "The Hens", Josh's crew at the garage, and the Widows get into made me roll. Little JJ was so sweet and funny. He drove Josh to have heart palpitations and made him smile. The connection between Leelee and Josh was HOT HOT HOT! In the end, these two find a BEAUTIFUL HEA. I give this story 4.5 super stars.

Book Info:

 September 25th 2014 | Rie Warren | Carolina Bad Boys #1
Rie Warren delivers a steamy, humorous romance with one hell of an alpha male bad boy.
Hell on wheels meets Hell in high heels.
Bad boy mechanic Josh Stone likes to get his hands dirty any way he can—the filthier, the better. Ever since his wife walked out on him and their young son, he's only had room in his heart for two loves: the kid and cars.
Roped into playing his best buddy's gay boyfriend during a romance writers convention, the player meets the girl who's gonna rock his world. Leelee Songchild. Shy, bashful, beautiful Leelee who blushes at the drop of a hat yet writes hardcore smut to rival Josh's backlist of Penthouse Forum.
The only problem is his hands are tied. Josh can't stab his old friend/fake lover in the back even though all he wants to do is take luscious Leelee to bed, and maybe, love her. When the truth comes out, all hell breaks loose.
Too bad romance is just for books.