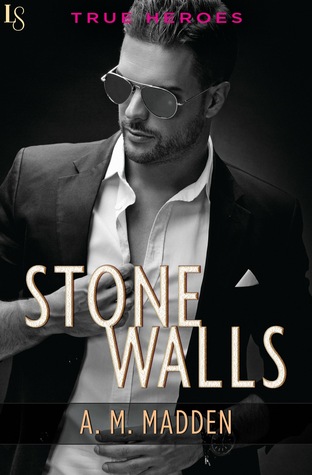 In Stone Walls (True Heroes #1) by A.M Madden, barely surviving the violent attack that killed her mother a while back, Ella Parker has decided that a relationship is the last thing she wants. She'd rather spend her nights alone than deal with her friend's matchmaking. Unfortunately, what she wants to do with her nights doesn't seem to be an option when her friend, Andrea, invites her out to meet Ben. The most arrogant man she's ever met, yet one she can't seem to deny the feelings he stirs within her. But just as their relationship is getting started, Ella finds her life in danger. Can Ben keep her safe, or will her dangerous past take her away from the man she's falling in love with?
What an incredible start to this series, encompassing a couple trying to match-make for their best friends, a heroine whose world is turned upside down because of her dangerous past, and a hero that will do anything to protect her. I really liked how this story started with Ben and Ella being set up, and not hitting it off like their friends expected. However, that's what made this story captivating for me, as I wanted to see how their relationship would progress, considering they didn't get off to such a good start.
As for the dialogue, there was a perfect blend of intense and light-hearted moments. Ella's best friend is a little pushy when it comes to her meeting Ben, yet her heart is in the right place; believing that Ella deserves to be as happy as she is with her man. Yet, it was the intense dialogue that really drew me into this story because Ella's world gets turned upside down. Everything she knows about her life seems to be a lie, which makes her question why her mother never told her the truth. Then there's Ben's own personal connection to the case he's working that has him determined to take down the criminals involved.
I really liked both the main characters. The violent attack Ella survived changed her life. Sometimes for the better, other times for the worse. It's made her strong and brave, yet very hesitant when it comes to relationships. How can she trust someone after what happened to her? How can she reveal the pain – both the emotional and physical – that she has suffered and which still affects her? Her nightmares are bad enough, not something she'd want to share with someone that she could truly care about. However, it seems Ben is good for her with the way he encourages her need of protecting herself; teasing her about her desire for tae kwon do.
"Is this your gym?"
"For now. Or firm represents the owners. Perks of the job."
I pretended ignorance. "Well, if I decide on it, maybe you can show me your tae kwon do skills?"
Ella grabs her water bottle and says, "Sure. I'd love the opportunity to kick your ass."
While Ben, he's confident, driven, and very protective of Ella. Especially when he learns about her connection to the case he's working; a connection which definitely sends a shock to his system, yet makes him determined to make sure nothing happens to her. Besides, she provides quite a challenge for him. He's not used to a woman acting so aloof to him the moment they meet.
Overall, this was a really good book where the sex scenes were nicely-detailed and did justice to this couple's strong chemistry. The ending wrapped this story up nicely, despite the fact that Ella suffers horribly at the hands of the bad guys Ben is after. Yet, she's a fighter that – more than anything – wants a future with Ben, so she'll do anything to recover completely and overcome her fears that the hero won't want her if she doesn't.
I would recommend Stone Walls, if you enjoy a story where friends match-make because they think the hero and heroine will be perfect for each other, or stories where neither main character are interested in a relationship but find their perfect match anyway.
Book Info:

December 15th, 2015 | Loveswept | True Heroes #1
What happens when a supposedly perfect match is so wrong it's right? In this roller-coaster novel of destiny and desire from A. M. Madden, a red-hot cop and a broken beauty are linked by painful pasts . . . and one tempting future.
As an NYPD officer, Benjamin Stone is married to his job, determined to clean up the drug-infested streets. His partner, Rob, always has his back—except when Rob and his girlfriend, Andrea, play matchmaker at his expense. On Ben's birthday, they're at it again. Andrea's friend is exactly Ben's type, even if he stubbornly will never admit it. But it's not the lithe brunette's looks that intrigues Ben; it's the hurt in her eyes.
Ella Parker is bright, beautiful, kind—and, thanks to one horrific night, severely damaged. She'd rather be training for her black belt or watching TV in her favorite pair of pajamas than be dragged out on a blind date. Sure enough, Ben swaggers into the club, locks onto Ella, and claims he's not interested—despite the irresistible chemistry between them. So Ella decides two can play at that game. But when her dangerous past comes back to haunt her, Ben will break all the rules of seduction to keep her safe.
Stone Walls is meant for mature audiences 18+ due to sexual content and adult situations. Stone Walls is a stand alone novel from the True Heroes Series.