Signed, Sealed, Delivered (The Ladies Who Lunch #2) by Sandy James was a laugh out loud, feel good book that kept me hooked from the first page to the very last. It is full of good old fashion girlfriend fun, but throw in a HOT hero and you have a hit!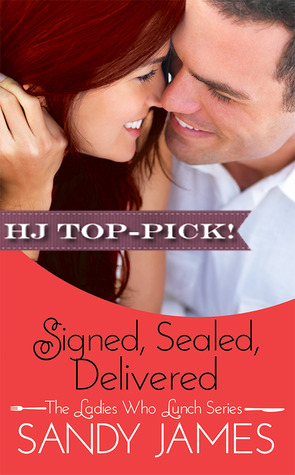 When a confident and educated woman like Juliana finally decides to leap off the path she has been on for years and try something new with her life, The Ladies Who Lunch rally behind one of their own to give support. Finally admitting to be burned out in her high stress teaching position, there aren't many options for quality employment in her small town. When the opportunity arises to learn about the real estate business, Juliana finds herself completely drawn in, but was it the seminar that caught her interest or the drop dead gorgeous realtor she got to know "very well" that night? Connor is new in town, keeps his past close to the vest, but does say he was a successful realtor looking for a life change. Have these two each found a kindred soul looking to put their pasts behind them and create a new future?
Juliana is strong, out-going , well-liked around town. Connor is an outsider. Already burned by a bad marriage, Juliana is unsure of blurring the lines between work and play, but Juliana feels herself losing her heart to a man she barely knows. Connor needs to make a full disclosure about his past, but fears it will shatter what he has found with Juliana. Will she be able to make a leap of faith and stand by Connor, or will it be too much for her to handle?
Can you say "chemistry?" Putting the personalities of Juliana and Connor together was sheer brilliance on Sandy James's part! Sheer smokin' hot brilliance! This book will show you that two bruised hearts can come together to find a bright and shiny future . If you are looking for a hot beach read this summer I would have to suggest that you take Signed, Sealed, Delivered along for the the ride. I loved this book so much I gave it 5 steamy stars!
Book Info:

Published July 1st 2014 by Forever Yours |  (The Ladies Who Lunch #2)
When life gets tough and love is hard to find, four friends take their troubles to lunch. High school teacher Juliana Kelley tells the Ladies Who Lunch that her life needs an overhaul . . . and gets a whole lot more than she wished for.
Juliana has spent thirteen years in the same teaching job. She's ready to dive into a new career with both feet . . . when a run-in with the hottest man she's ever seen knocks her head over heels. But with her failed marriage to a fellow teacher fresh on her mind, Jules can't afford to lose herself in a relationship—no matter how perfect it may seem.
Connor Wilson has hit rock bottom when he loses his career as a top-notch Realtor because of a large gambling debt. Now, in a small town he finds a fresh start—and a gorgeous redhead who sparks new life into him. Together they start a successful real estate company, but when pleasure sneaks into the business, they'll have to decide what they can let go . . . and what they can't live without.