In Stranded With A Billionaire (Billionaire Boys Club #1) by Jessica Clare, Logan is a successful, driven billionaire. He's just bought a resort in the Bahamas that he'll revive and hopefully prosper from. When he ends up stranded there after a hurricane with intriguing Bronte, a woman who won a trip to the resort, she assumes he's the manager and he doesn't correct her.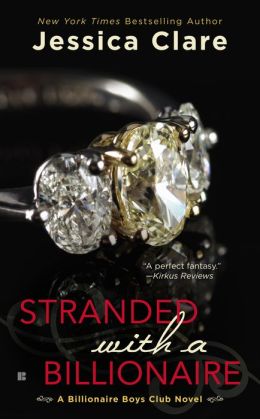 Bronte has a degree in philosophy but is working as a waitress. This trip is probably the only one she'll have for a long time, and despite the run down resort, she tries to see the positive. Finding herself stranded in the Bahamas with Logan might turn out to be the best part of the trip!
A few nights in paradise, just the two of them, soon turns into a very steamy, fantasy like reality for her. The chemistry between them can't be ignored, but what will become of it? When Bronte discovers Logan is much more than she thought he was, she runs. Hurt and angry, distance is all she wants. Logan never thought he'd want a woman the way he wants Bronte. Bronte feels like she'll never fit into Logan's world even if she can forgive him. He is determined to win her over, but can opposites really attract and stay attracted?
Stranded With A Billionaire is an entertaining, heated romance with a fairy tale feeling that makes Logan and Bronte's story entrancing. They really are opposites. Logan is very rich, very alpha, and very sure of himself. So sure he can't always see Bronte's perspective. He really tries though, and this really endeared him to me. Bronte is smart, independent, and fun! Jessica doesn't give us a lot of background on her, but in Stranded With A Billionaire, this works. I really enjoyed her, her quotes, and I felt like I got to know who she is now. Jessica gives us a strong sense of both Logan and Bronte's characters. Logan in particular really grows in all the right ways in Stranded With A Billionaire. I liked reading from Logan and Bronte's POV's, and I found them and their story appealing.
The secret 'boys' club Logan belongs to is intriguing. A group of men who have vowed to stick together and back each other up at all times is where is all starts. This adds a lot of character to Stranded With A Billionaire when we have the men interacting!
Accepting differences in people and taking responsibility for your own feelings is a theme I picked up in Stranded With A Billionaire, and Jessica gives us a hotly entertaining plot to explore this. Jessica starts off the Billionaire Boys Club strongly with Stranded With A Billionaire.
I'd recommend Stranded With A Billionaire to romance readers looking for a saucy summer read with a bit of a fairy tale aura.
Book Info:

Published April 16th 2013 by Penguin Group (USA) | (Billionaire Boys Club #1)
The Billionaire Boys Club is a secret society of six men who have vowed success – at any cost. Not all of them are old money, but all of them are incredibly wealthy. They're just not always as successful when it comes to love…
Billionaire Logan Hawkings needs a vacation.
He's had a rough time after the death of his father and the betrayal of his fiancée. But with a visit to a recent business acquisition—a private island resort in the Bahamas—he has a chance to mend his broken heart.
When a hurricane blows in, a misplaced passport and a stalled elevator bring Logan together with an unusual woman named Bronte. She's unlike anyone he's ever met—down to earth, incredibly sensual, and even quotes Plato.
She also has no clue that he's rich…
Bronte Dawson, a waitress from the Midwest, is stranded with the hotel's domineering yet sexy manager Logan. What's the harm in a little fling when it's just the two of them, alone in paradise? But after several steamy island nights in Logan's arms, Bronte's ready to give her heart—and her body—to the man in charge.
But she soon discovers there's more to Logan than he's told her…a billion times more. Now, Bronte's caught in a whirlwind affair with one of the world's most powerful men. But can their love endure their differences or will it all just blow over?