The Captive by Grace Burrowes: There are few internet memes that are circulating that say something like "I don't have a sleeping problem, I have a reading problem." This generally doesn't happen to me, I like my sleep. But just a few days ago I actually stayed up all night to read Grace Burrowes's 'The Captive' because it was that riveting.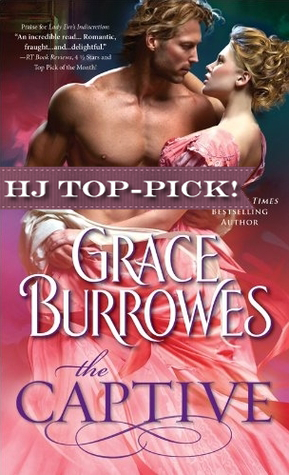 Christian Severn, Duke of Mercia, is captured by the French, held and tortured in some dismal location, given no respect for his position as a lord and as an officer. He copes by keeping silent, and plotting revenge on all who cause him pain and despair. At the same time Gillian, Countess of Greendale, is faced with being accused of her 'universally despised' elderly husband's death. Later, when Christian, thin, scarred, not eating or sleeping, is back home in London, Gillian (called Gilly) comes to see him. They are relations by marriage; Christian's late wife was her cousin, and the new Count of Greendale, Marcus Easterbrook, is Christian's cousin and heir. She comes to remind him of the fact that while his wife and son died when he was away, on his estate his eight-year-old daughter Lucy is lonesome and not herself and that he needs to go see her. Christian, who is unable to deal with the social necessities that are required of a duke, agrees to go to Severn as long as the young widow agrees to be his hostess for him. Unsuspectedly, he finds a comfort in her busy yet efficient presence:
And those busy hands were graceful. Christian wanted to watch them work, wanted to watch them be feminine, competent, and pretty, because this too—the simple pleasure of a lady's hands—had been denied him.
Both Christian and Gilly are damaged people. Christian seems to be suffering from what we now call PTSD, and needs to live very quietly; Gilly is coming out of an apparently bad marriage to a mean old man. Gillian mentions it to Christian at their first meeting that their families meant her for him initially, but her cousin Helene was prettier, so Helene got to marry the duke. 'What ifs?' never figure into the equation, they accept the past as it is, and move on to a new, unexpected future. These are quiet, controlled people; nothing is done in grand, exuberant gestures. After their move to Severn to care for Lucy the book is full of discovery, intrigue, and some adventure, and it is a wonderful read.
Occasionally in a book there is a quote that speaks of the entire novel to me, and in this book there is this one:
And maybe she would simply take her sweet time coming to terms with the fact that everybody needs an orange peeled for them, from time to time.
What I love about this book, and what kept me up all night, is that it's so different that most historical novels, and I adore different. This is a novel about recovery, revenge, and love, and not a novel about balls, false betrothals, misunderstandings, and reformed rakes. However, it's not only different, but exceedingly well written. The characters are wonderfully drawn, filled with depth, and have a satisfying amount of development throughout the book. When special moments happened between characters, there is a trueness in the emotion that is conveyed to the reader.
When I read and review a book, I often ask myself three questions: was this book a pleasure to read, would I read this book again, and will I remember this book in future. For me, this is a three-yes book, and I highly recommend it!
Book Info:

Published July 1st 2014 by Sourcebooks Casablanca
He'll never be free…
Captured and tortured by the French, Christian Severn, Duke of Mercia, survives by vowing to take revenge on his tormentors. Before the duke can pursue his version of justice, Gillian, Countess of Greendale, reminds him that his small daughter has suffered much in his absence, and needs her papa desperately.
Until he surrenders his heart…
Gilly endured her difficult marriage by avoiding confrontation and keeping peace at any cost. Christian's devotion to his daughter and his kindness toward Gilly give her hope that she could enjoy a future with him, for surely he of all men shares her loathing for violence in any form. Little does Gilly know, the battle for Christian's heart is only beginning.