In The Longest Silence (Shades of Death #4) by Debra Webb, when women go missing the same way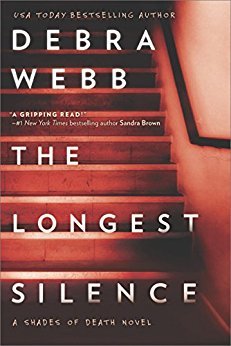 Joanne Guthrie once did, she knows she can no longer hide from the truth. Getting someone to listen to her story isn't going to be easy, but if there's one person she's willing to tell that person is Tony LeDoux, a man that was once a special agent with the FBI. Besides, he has just as much at stake in finding the person responsible as she does with his niece being one of the women missing. Will Tony and Joanne be able to get to the bottom of who has kidnapped his niece and countless others?
He was doubtful that she was actually the victim from the eighteen-year-old abductions. "I see. What is it you think I can do for you, Ms. Guthrie?"
Her pale eyes went up in surprise but she didn't relent. "Help me find the persons who did this. If we find them, we'll find your niece."
Tony nodded slowly. His instincts were telling him not to set aside her theory so quickly. "How can you be so sure about that?"
She put her hand on his arm. "I wish I could explain this feeling." She shook her head. "I just know. I've kept quiet about this for eighteen years. If I wasn't as certain as I can be I sure as hell wouldn't be talking to you now."
What an enthralling, fast-paced, thrilling ride Ms. Webb takes readers on in this fourth book of her Shades of Death series, which now follows the journey of ex-Special Agent Tony LeDoux, as he searches for what's happened to his niece. Who has taken her? Will he find the person responsible for his niece's kidnapping before it's too late? However, it was from the moment the hero and heroine come face-to-face for the first time that had me reading quickly, determined to discover what the heroine knows and whether she can help Tony, considering what happened to her years ago that she's fought so hard to forget.
As for the dialogue, it was intense and emotional due to the main characters back stories because both have been through hard times with what happened to Tony during his time as an FBI agent and what happened to Joanne because she was a college student that put her trust in the wrong person. Will the pair helping each other find the person responsible heal old wounds? Moreover, the heroine is resilient, courageous and I liked that she finally put her trust in someone because it's been so hard for her to trust anyone in a long time after what she went through. I also liked how determined she was to help Tony find his niece, even if she has to put her life in danger, which is proven by the risks she takes. Yet, what I liked most of all about the heroine is that she didn't allow her past to keep holding her back, especially when it came to her family and knowing that it might be possible to reconnect with them.
"Like I told you before, they made us fight for food."
Tony stared at her profile. The moonlight softly framing the outline of her nose and her chin. She'd pretty much glossed over the details when they'd talked about this before. "Fight as in hand to hand?"
She nodded. "Sometimes they provided rudimentary weapons, but mostly it was hand to hand. If you won, you ate. At least in the beginning."
While the hero, he's confident in his skills of finding his niece and I liked the lengths he went to in order to find her. No way is he going to let his sister down, especially when the poor woman and her husband are so stressed that their daughter is missing. I also liked that the hero put his trust in Joanne, even though that's not easy for him to do after all he's witnessed as an FBI agent. People lie and sometimes do it very well that it's hard to tell the lies from the truth. Although, in saying that, the hero has very good instincts and he sees something in Joanne, especially when she reveals more and more about what happened to her that shows how resilient and courageous she really is.
Overall, Ms. Webb has delivered another fantastic read for this series where this book kept me guessing as to the person responsible for the kidnappings; the chemistry between Tony and Joanne was strong and kept getting stronger the further they get into their investigation; and the ending had me on the edge-of-my-seat because of what one of the main characters go through in order to save the kidnapped women. Will they be able to save the women before it's too late? However, it was right at the end that I loved the most because of how Tony is determined to support Joanne in what she's hoping to accomplish. Will it finally help her put the past to rest and end the guilt she's felt for all the years since her own abduction? I would recommend The Longest Silence by Debra Webb, if you enjoy romantic suspense or books by authors Laura Griffin, Mary Burton, Rita Herron and Cynthia Eden. Furthermore, although this book can be read as a stand-alone, to understand the tight bond Tony shares with two of the secondary characters in Nick and Bobby I would suggest reading the previous books.
Book Info:

Publication: March 1st, 2018 | Harlequin MIRA | Shades of Death #4
A killer stole her voice. Now she's ready to take it back. Don't miss the chilling Shades of Death series from USA TODAY bestselling author Debra Webb.
Joanna Guthrie was free. She had been for eighteen years–or so she needed everyone to believe. What really happened during the longest fourteen days of her life, when she and two other women were held captive by a dangerous serial killer, wasn't something she could talk about. Not after what they had to do to survive.
But when more women go missing in an eerily similar manner, Jo knows her prolonged silence will only seal their fates. She's finally ready to talk; she just needs someone to listen. FBI special agent Tony LeDoux can't deny he finds Jo compelling–he's just not sure he believes her story. But with the clock ticking, Jo will do anything to convince him, even if it means unearthing long-buried secrets that will land them squarely in the crosshairs of the killer…