In Strong Enough (Meet Me in Montana #4) by Kelly Elliott, Dirk Littlewood should be the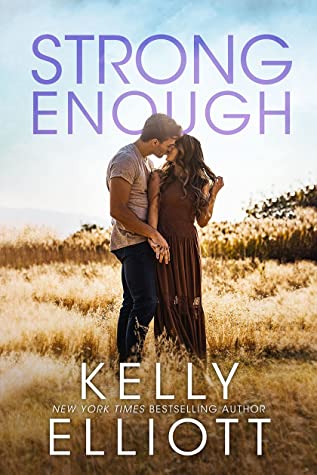 happiest he's ever been, considering he's the current world champion of the PBR. But for as much fun as bull riding and steamy one-night stands have been over the years, something is…off. And Dirk has a feeling he knows just what's missing: Merit Eden. The one girl who knew him better than any other soul on earth. But unfortunately one night is all it took to break things between them seemingly forever. It's when Dirk has to rush home that his past catches up to him as he tries to make amends with Merit. Not so easy when she'll barely give him the time of day. But he's not going anywhere anytime soon.
"But I think Merit Eden has always been the one you've been afraid to give your heart to, because she's the one who truly has the power to bring you to your damn knees."
Merit's return to her hometown of Hamilton, Montana, probably raised a few eyebrows but she doesn't really have time to worry about the neighborhood gossip when she's trying to save her family's ranch. The last thing Merit expected was for Dirk to be in town as well. Or that her attraction to him and the years of love and affection she had for him would come rushing back. But every time it seems they make some headway, either Dirk messes up or something comes between them all over again. Tired of playing second fiddle in life, Merit all but gives up on them as a couple. Until their lives change dramatically, leaving them both scrambling to figure out if this might be the universe telling them that they really do belong together.
"Your love, your heart. That's all I want. I'm not asking you for anything more than that."
"It's yours, Merit. All of me. Every single heartbeat belongs to you."
Strong Enough ended the Meet Me in Montana series with an emotionally-charged romance that ran the gamut from unrequited love to life-changing events and even healing, understanding, and redemption.
'One kiss, and she had me undone. Except it hadn't been this kiss. No. It was the kiss we shared when we were ten years old and I knew that someday I'd make her mine.'
I swear that with every book in this series I have uttered the words "This is my favorite!" upon finishing reading. But I honestly have to say that I really think Strong Enough was truly my favorite–for several reasons. Not only were Dirk and Merit two complex characters who had a shared history, making this a reunion romance of sorts, but we got to also see all of the previous cast from the series where their lives were intertwined. And boy was there a LOT going on with the Shaw family and all of their loved ones!
Merit and Dirk's relationship was uber complicated. Former best friends growing up, they had feelings for each other in their mid to late teens and just weren't really equipped to handle it at that time. Years later, with animosity still between them, neither Dirk nor Merit had moved on completely. And even though it took some very tough family issues to bring them back into the same orbit again, I did love the (eventual) outcome. I'll leave you to read about the specifics. But be forewarned: have your tissues handy because you'll need them a few times throughout the story.
The other thing I loved about Strong Enough was that even though this was definitely Merit and Dirk's story, as I mentioned before, the previous characters were a huge part of this book. It was so satisfying to see where each couple was, who had babies on the way, and what havoc that rascally darling Blayze was up to. (He totally needs his own book in the future–to see who he finds as his soulmate once he's an adult!) It was fun and heartwarming getting to catch up with them all and to see how they helped–or hindered–Dirk and Merit's meant-to-be romance. Sigh…
I'm beyond sad to see this quartet of books come to a close but author Kelly Elliott couldn't have left her fans on a more poignant, sigh-worthy note than she did in Strong Enough. It's a definite must-read.
Book Info:

Publication: Expected publication: February 9th 2021 | by K. Elliott Enterprises, Inc | Meet Me in Montana #4
The fourth, and final novel in New York Times bestselling author Kelly Elliott's Meet Me in Montana series fires up the passion in a story about forgiveness and finding your soul mate.
Dirk Littlewood had the world at his feet and a life he claimed to love. He was a world-champion bull rider with plenty of women to keep his nights busy and make his inner loneliness nothing but a delusion.
Dirk's life was exactly how he wanted it.
Until it wasn't.
The moment Merit Eden showed back up in Hamilton, Montana, everything was turned upside down. Life changed immediately and then tragedy struck.
Merit was the only woman who could bring Dirk to his knees—and the only woman who could heal his broken past. If only he'd let her in, they could heal each other in the process.
The only thing left for Dirk to do was figure out how to not only forgive himself, but accept forgiveness from the only woman he had ever truly loved…if only he was strong enough to withstand the heartbreak.
Strong Enough is a stand alone novel in the Meet Me in Montana series, but for a better reading experience the order is as follows:
1. Never Enough
2. Always Enough
3. Good Enough
4. Strong Enough