Until Then by Heidi McLaughlin: Rennie is living her best life, she has everything that a girl could ask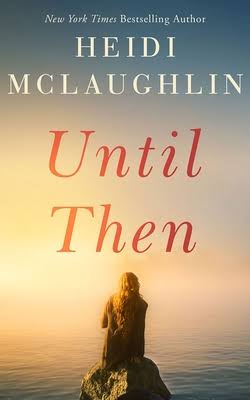 for; thriving career as an attorney and engaged to a successful business man but she cant help but feel like something is missing. This is what leads Rennie back to her favorite place Cape Harbor. However the last person Rennie expected to run into was old flame Graham Holmes. Graham has all but given up all his dreams of adventure to help his brother and run the family business, but it is all beginning to weigh on him. So when Graham runs into old girlfriend Rennie old feelings begin to stir, but the question is it to late for them?
"I want you in my future. I want to date you. I want to take you places, spend every minute we can together. I want to wake up in your arms on Sunday morning and read the paper together. I want to call my mom and tell her I'm bringing my girlfriend over for family dinner. I want to show up at your house in the middle of a rainstorm just so we can dance together outside."
Until Then is a slow burn second chance romance of two people that have had their lives turned upside down but find comfort in each other. This is the second instalment in the Cape Harbor series but it can be read as a standalone novel without feeling like there are missing links in the story.
"We're so much stronger now than we would've been. We needed to grow up, be stupid, and find our way back to each other. I love you, Graham Cracker."
Both Graham and Rennie were brilliant characters but it was Graham that stole my heart. I loved his selfless nature and that he was so family oriented and such a sweet guy. I really liked the way in which he interacted and dealt with his twin Grady very sensitive and compassionate, which made me like him all that much more.
This slow burn small town second chance romance that shows that life is not always easy and go the way that we plan but you have to bounce back and make the best of it.
Book Info:

Publication: February 2nd 2021 | Montlake | Cape Harbor #2
Rennie Wallace has it all: a boyfriend, a good job, a best friend who lives a stone's throw away…but something's missing. She isn't sure what until she returns to Cape Harbor, her favorite home away from home. There, she crosses paths with an old love, Graham. Rennie's drawn to him but senses their paths in life have wandered too far apart.
Graham Chamberlain has returned to Cape Harbor to care for his brother, the town alcoholic. Managing and serving drinks at his family's bar, Graham can't believe how mundane his life has become. He's resigned himself to living for others, his own desires for adventure and romance taking a back seat to running the family business—until Rennie walks through his door.
Graham feels the weight of his small-town life; Rennie has a boyfriend and a busy life in the city. But neither can deny the rekindled spark between them. Will they find their way back to one another?