Today it is my pleasure to Welcome author
LaQuette
to HJ!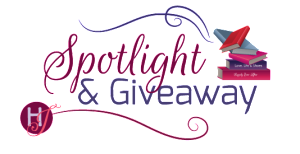 Hi LaQuette and welcome to HJ! We're so excited to chat with you about your new release, Jackson!
Please summarize the book for the readers here: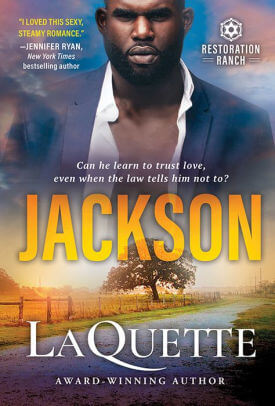 Jackson is about a woman looking to make amends for a decision she's yet to forgive herself for. In search of her own second chance, she seeks to provide second chances for others. Jackson is a man who doesn't believe in second chances. And after suffering a devastating loss at the hands of someone he loves, his pieces have never fit the same again. Through their search for the person who's threatening Aja's safety, they find having an anchor in one another just might be the thing they need to make it through their pain to the other side of their restoration.

Please share your favorite quote from the book:
There's two. The first is, "If you can huh, you can hear." The second is, "Going to hell with gasoline drawers on." These two quotes never cease to make me laugh.
Please share a few Fun facts about this book…
The way to this Ranger's heart is his sweet tooth. Aja spends a lot of time using her cooking as behavioral modification for the grumpy Ranger.
Friends and family will always put your business on Front Street.
There really is no place like home. And home isn't a physical place, it's wherever your heart is.
Tell us about the book with this fun little challenge using the title of the book
J is for joy. Aja, Jackson, and the entire cast bring each other deep joy.
A is for aspirational. Jackson and Aja are truly relationship goals.
C is for curvy and culture. Aja has curves for days, and this book is a celebration of Black and Southern culture.
K is for keeper. Once Aja and Jackson find each other, there's no letting go.
S is for sexy. "The sexual tension between these two runs the gambit. It's soft and sweet and yet hot and volatile at the same time.
O is for obstinate. They are two of the most stubborn people in the world.
N is necessary. Even though they don't figure this out in the beginning, from the moment they meet, their connection becomes a necessary part of their lives.

If your book was optioned for a movie, what scene would you use for the audition of the main characters and why?
I love the scene where Jackson and Aja meet for the first time. It's an obvious battle of wills. But Jackson thinks they're playing checkers and doesn't realize from the moment Aja steps in the door, she's playing chess. Here's a snippet below.
Jackson Snippet
He glanced down at the open case file on his desk and thumped his finger on top of it. The three of them at the ranch weren't nearly enough to investigate as many angles as they needed to, but they'd been in tighter spots, and they worked well together. With Gleason and Jennings backing them up at headquarters, hopefully that would yield a quick and effective end to all of this. Because, if the way he couldn't take his eyes off the sumptuous beauty's photo was any sign, spending time with Aja Everett was bound to be a problem for him.
A tap on his door drew his attention as Colton leaned in. "Gleason and Jennings are in the parking lot with Ms. Everett. You want me to put her in one of the interrogation rooms?"
Jackson shook his head. She was the niece of a sitting judge and the victim of a serious crime. Putting her in an interrogation room could be misconstrued in all sorts of ways. That was grief he didn't need. "No, bring her in here."
Colton tapped on his phone's screen. When he was done, he opened the door wide and he and Storm walked in. "Message sent. They'll come directly here."
Another knock on the door, and Jennings stepped inside greeting Jackson and their colleagues while holding the door open and jerking a thumb behind him. Jackson blinked, and suddenly Aja Everett was filling his doorway in the flesh.
And what lovely flesh it was. She wore a red blouse with a black fitted suit vest and matching black slacks that hung like a second skin on her. No way she pulled that outfit off any rack the way the material seemed to lovingly hold each of her curves. It was a power suit, battle armor for the powerful attorney the preliminary background check he'd run said she was.
"Morning, Ranger Dean." A bright smile graced her lips. "May I come inside?"
Jackson was caught off guard by the greeting. Her outfit, the stacked platform heels that peeked out from the hem of her pants, even the blood red matte lipstick she wore told him firmly she was poised to attack. Her easy smile seemed out of place.
"Please, call me Jackson." He ushered her into the room then pointed to Colton and Storm seated at the conference table. "These are the rest of my team members, Colton Adams and Storm Cordero." She waved at each of them before looking at Jackson. "Can I offer you a cup of coffee before we begin?"
"From a federal building?" She shook her head. "I care about my health more than that. In fact, I brought my own coffee and snacks too." She raised her hand in a graceful wave and pointed toward the door. Like magic, Gleason appeared at the door pushing a cart with a large thermal coffee dispenser and two large insulated food bags.
Jackson closed his eyes and took a deep breath. He moaned as his stomach protested that breakfast so far had been one and half cups of bad black coffee.
He opened his eyes and his chest tightened as he took in the sight of her again. She looked even more tempting standing in front of him now than she had in the picture in her file.
She unzipped the food bags and placed out two large pans of what looked and smelled like the best cinnamon rolls he would ever have in his life. When she was finished setting up the food and made disposable cutlery and flatware appear out of thin air, she returned to Jackson and his men with a broad, welcoming smile.
"You didn't need to go through this kind of trouble, Ms. Everett."
She lifted her shoulders, dismissing his comment. "My mama taught me to never show up anywhere empty-handed. It's bad manners."
He chuckled. Aja might be a New Yorker, but her southern sensibilities were definitely showing.
"Now that that's settled, I hope you gentlemen don't mind something sweet, hot, and sticky for breakfast."
Jackson closed his eyes again as he tried to control his breathing. He'd hoped for short and simple. But this woman standing in the middle of his office, looking the picture of a poised, dominant professional mixed with a touch of down-home goodness was as complicated a start to this case as Jackson could imagine.
A two-dimensional Aja Everette in a photo, Jackson could deal with. But this tempting stranger, smiling as she offered him something sweet, hot, and sticky, would not be easy at all.
What do you want people to take away from reading this book?
Second chances are often the opportunity for us to become the best version of ourselves.• Please share your favorite quote from the book: There's two. The first is, "If you can huh, you can hear." The second is, "Going to hell with gasoline drawers on." These two quotes never cease to make me laugh.

If you could have given your characters one piece of advice before the opening pages of the book, what – would it be and why?
Stop being so hardheaded, please, and just kiss already.

Thanks for blogging at HJ!
Giveaway:

A paperback copy of JACKSON by LaQuette
To enter Giveaway: Please complete the Rafflecopter form and Post a comment to this Q:

How much must you atone before you can forgive yourself?
Excerpt from Jackson:
"You should go." She remained positioned in front of the window like a sentinel waiting for the day to bring reinforcements and aid.
"I'm not going anywhere."
"People around me get hurt, Jackson. You signed up for fun, not to be my permanent bodyguard."
He wrapped his arms around her shoulders and pulled her against him. Any other day the comfort he offered would have been received with gratitude. And although she was grateful he cared enough to want to comfort her, she couldn't allow herself to be weak enough to accept it. Not when being near her was becoming a prescription for trouble.
"That is the literal thing I signed on to be when I first landed on your doorstep."
"My case is over."
"Apparently not. Even if it were, I'd still be with you. I'd hoped you'd figured this out when I asked you to let me be the man in your life."
She turned around in his embrace to face him, needing to see the truth of his words in his eyes, because her ears did not want to believe the steady, sure cadence of his voice. "I also remembered telling you how busy my life was. If you thought Pathways was gonna put a crimp in our alone time, I'm sure an attempted poisoning might be a tad too much for even you."
His eyes searched hers, and she had to fight to hold back the unshed tears stinging her eyes. Jackson Dean would be the proverbial cherry on top of the new happiness she'd found for herself on Restoration Ranch. But more and more, especially with Seneca lying in a hospital bed now, Aja had to wonder if she were ever meant to experience any lasting happiness.
"If you're asking me if I'm too chickenshit to stand by you, you're wrong. For as long as you'll have me, regardless of how difficult and messy the situation, I want to be the man by your side."
She stepped back, needing to put some distance between them. The light, spicy scent of his cologne coupled with the heat his nearness brought was enveloping her. She was overwhelmed and being this close to him made it hard for her to think.
"You wouldn't want to be with me if you knew the real me." She was certain of that. A man like him who subscribed to the ideals of truth and justice could never tolerate someone with Aja's particular flaws. "Jackson, I—"
He stepped closer to her and placed a finger of her lips. "Aja, if you're gonna try to push me away, save your breath. You are everything I've ever wanted, and there's nothing I wouldn't do to keep you safe. There's nothing I would work like hell to see you through. I'm here because there's no place in the world I'd rather be."
She lost her battle with her tears; they spilled from her eyes and slid down her face like fat raindrops on the smooth glass of a window. He pulled her into his arms, cradling her head against his heart, making her need to purge herself of her fear and guilt even more profound.
She plastered herself against him, wrapping her arms around his waist and holding on for everything she was worth. In such a short time he'd become her anchor, the thing that kept her from drifting off into the sea.
When her shoulders stopped shaking from the sobs that wracked her body, and her tears stopped flowing, he whispered in her ear, "I'm yours, baby girl. I'm not going anywhere." And just like that, Aja's soul opened, and her heart danced in her chest. Jackson may have been the one to make the offer, to say the words, but her heart was filled to bursting with the invisible link that tethered them.
She should've walked away. People like her—guilt-ridden and condemned in their own minds—didn't get the refuge Jackson was offering her. Once you screwed up, life rarely let you get do-overs. But standing here in this big, beautiful man's arms, Aja knew one thing. Coming to Restoration Ranch may have been the first step on her road to redemption, but Jackson Dean was the last mile. He was living proof she could not only restore herself, but rebuild, make herself a new thing.
Excerpt. © Reprinted by permission. All rights reserved.


Book Info:
From celebrated author LaQuette comes a sizzling opposites attract Texas Ranger romance that will leave you breathless…
Aja Everett longs to turn her old family ranch into a place where anyone can find rest and healing. But her big heart's bound to get her in trouble if she's not careful—someone wants her gone, and they'll do whatever it takes to drive her away from the land that's her lifeblood. Whether she's willing to admit it or not, she needs help.
She needs a man like Ranger Jackson Dean.
Jackson doesn't trust love. He once made the mistake of following his heart and all he'd gotten was pain in return. But when city-slicking do-gooder Aja Everett asks for his help, he can't stay away…and as attraction sizzles and protective instincts flare, she may be the only woman able to restore the heart of this Texas Ranger.
Get out your fans for this steamy contemporary romance which features a hunky Texas Ranger with trust issues and a confident, sexy, full-figured heroine who believes in the best in people. Sometimes oil and water are meant to mix.


Meet the Author:
LaQuette is an erotic, multicultural romance author of M/F and M/M love stories. Her writing style brings intellect to the drama. She often crafts emotionally epic, fantastical tales that are deeply pigmented by reality's paintbrush. Her novels are filled with a unique mixture of savvy, sarcastic, brazen, and unapologetically sexy characters who are confident in their right to appear on the page.
This bestselling Erotic Romance Author is the 2016 Author of the Year Golden Apple Award Winner, 2016 Write Touch Award Winner for Best Contemporary Mid-length Novel, 2016 Swirl Awards 1st Place Winner in Romantic Suspense, and 2016 Aspen Gold Award Finalist in Erotic Romance. LaQuette–a native of Brooklyn, New York–spends her time catering to her three distinct personalities: Wife, Mother, and Educator.
Writing–her escape from everyday madness–has always been a friend and source of comfort. At the age of sixteen she read her first romance novel and realized the genre was missing something: people that looked and lived like her. As a result, her characters and settings are always designed to provide positive representations of people of color and various marginalized communities.
She loves hearing from readers and discussing the crazy characters that are running around in her head causing so much trouble. Contact her on Facebook, Twitter, @LaQuetteLikes, her website, www.NovelsbyLaQuette.com, Amazon, her Facebook group, LaQuette's Lounge, Instagram, @la_quette, and via email at [email protected]