Suddenly Engaged by Julia London: Kyra was young, single, working towards a promotion, and very much enjoying life in NYC until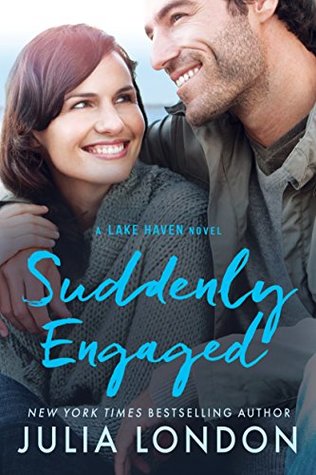 she very unexpectedly became pregnant. In the more than six years since getting that surprising news, she is ready to move out of the city in hopes of having a better life for her and her daughter, Ruby. Working as a waitress barely pays the bills, but it's a job until she can pass the test to become a realtor.
Dax just wants to live a quiet life in piece while he figures out his life. He left his life as an EMT and paramedic after a painful divorce. He seems to have found a second career as a highly sought-after furniture maker for the many wealthy people who flock to Lake Haven and their pricey vacation homes.
Dax is less than thrilled when the sexy single mom and her firecracker of a daughter move next door. The constant noise is enough to drive him mad and it doesn't help that Ruby begins to constantly show up at his door. So, it's hardly surprising that Kyra and Dax got off to a rocky start as neighbors. She tries to make an effort to be friendly, in spite of his gruff and standoffish demeanor.
"Look, if you don't want it, that's cool." she said. "But my arm is getting tired."
"What is it?" he asked warily.
"Big cyanide tablets."
He looked started, and Kyra couldn't help but laugh. "They're cookies," she said. "Ruby made them today."
After a while, Ruby worms her way into Dax's heart and he finds himself hanging out with his suddenly not so annoying neighbors. Dax and Kyra have a sort of friendship and great chemistry, which neither are sure they want to act on. But once they do cross that line, their relationship moves very quickly due to Ruby's health. Kyra is very independent and doesn't like having to rely on others to help her, but he can be very persuasive.
"You know what makes me nervous?" he asked as he dabbed the water from her shoulders. "You. I'm scared to death you're going to kiss me again."
"Big baby. You didn't seem to mind it when you kissed me. I thought you really liked it. In fact, you sort of-"
"God," he said and pulled her into his body and kissed her.
Suddenly Engaged is heartwarming, charming, and sexy. Julia London provided angst, conflict, heat, and humor. Ms. London created entertaining characters in Ruby and their other neighbors. Suddenly Engaged can be read as a standalone in the Lake Haven series. Fans of Kelly Moran and Liora Blake will enjoy Suddenly Engaged.

Book Info:

Publication: July 25th 2017 | Montlake Romance | Lake Haven #3
Single mother Kyra Kokinos spends her days waiting tables, her nights working on her real estate license, and every spare moment with her precocious six-year-old daughter, Ruby—especially when Ruby won't stop pestering their grumpy next-door neighbor. At first glance, Dax Bishop seems like the kind of gruff, solitary guy who'd be unlikely to offer a cup of sugar, let alone a marriage proposal. But that's exactly what happens when Ruby needs life-saving surgery.
Dax showed up in East Beach a year ago, fresh from a painful divorce and looking for a place where he could make furniture and avoid people. Suddenly his life is invaded by an inquisitive munchkin in sparkly cowboy boots—and her frazzled, too-tempting mother. So he presents a practical plan: his insurance will help Ruby, and then they can divorce—zero strings attached.
But soon Kyra and Dax find their engagement of convenience is simple in name only. As their attraction deepens, a figure from the past reappears, offering a way out. Can Kyra and Dax let go so easily—or has love become a preexisting condition?