In Summer in Napa by Marina Adair, Lexi Moreau was hoping to move back to her hometown of St Helena, California, virtually unnoticed after her divorce was finalized. Unfortunately, within the first twenty-four hours she's back, she runs into her ex-husband's best friend Marc, while stuck in an awkward situation, and her grandmother has half the town's eligible bachelors signed up for dates with her over the next couple of weeks. All Lexi wants to do is forge ahead and realize her dream of owning a bistro with her grandmother but it seems she is being thrown obstacles at every turn. The biggest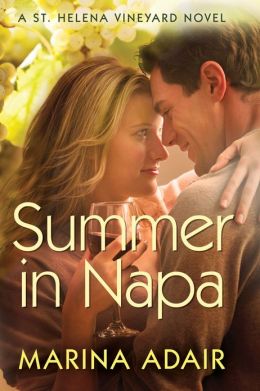 challenge, to her surprise, is ignoring the attraction she feels for Marc. Especially when he swoops in to save the day by offering to become her fake boyfriend and keep the would be suitors at bay.
"How about this?" He broke off a chunk of chocolate and held it to her mouth. When she didn't open, he teased it across the seam of her lips until she parted them on a gasp. He slid the chocolate in and she nearly moaned, because of the chocolate or the fluttering going on in her girly region, she didn't know."
Lexi continues to work hard at the bakery and approves construction for the expansion that will become her bistro. Marc is solidly in her corner and provides her with moral support and the occasional distraction she desperately needs. She can't deny the feelings that are quickly growing between them but she's afraid to take a chance with the notorious womanizer. Marc was her friend before he was her ex-husband's and she doesn't want to damage that friendship in any way. As they spend more time together pretending to be in a relationship, Lexi longs to make it a reality and finally share her true feelings with Marc and the whole town.
"The one woman who couldn't be charmed was the only one who mattered."
Marc DeLuca has been infatuated with Lexi Moreau since they were fourteen. She's smart, funny, sexy, and sees right through him to his true intentions. He backed off when he first realized his friend Jeffrey was interested in her and has tried to keep things platonic since then. Over a decade later, he still feels sparks fly when he runs into Lexi on her first day back in town during a memorable encounter. His attempts to steer clear of her fall by the wayside seeing how he lives on the same block as her in such a small town. Marc reminds himself daily that she is off limits considering she is his friend's ex-wife and he doesn't want to cause trouble. But when he steps in and offers to pose as Lexi's boyfriend when she's in an awkward situation, he curses himself at his own stupidity. He knows the longer he's in her life, the harder it will be to keep from falling for her.
I completely enjoyed this story by Marina Adair. It has all the elements I look for in a good romance: engaging characters, interesting plot, humor and wit, sultry chemistry, and it's full of sigh-worthy moments. Oh…and did I mention lots of delectable food? I am a sucker for a foodie story. Lexi and Marc were such a fun couple to get to know. They were both very smart, talented, independent people who want to do the right thing but also want to give in to their feelings. And when they finally did give in. Whew. Sparks flew! Highly recommended!
Book Info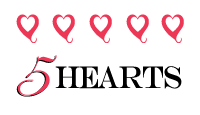 Publisher: Montlake Romance Release date: May 14, 2013 | Series: A St. Helena Vineyard Novel (Book 2)
When Alexis "Lexi" Moreau caught her husband, Jeff, sampling the sous-chef's more intimate wares in their New York restaurant, she ran—all the way back to her hometown of St. Helena, California. Six months later, Lexi has no husband and no restaurant. But she does have a three-step plan: First, convert her grandmother's bakery into her dream bistro. Second, ignore Grandma's matchmaking attempts. And third, avoid Marco DeLuca, her ex's commitment-phobic, distractingly sexy best friend.
In school Lexi was off-limits for Marco. After all, she was his buddy's girl. But she's still as smart and as gorgeous—and apparently as immune to his charms—as she used to be. Yet the simple fake romance they agree upon to dodge Lexi's grandmother's matchmaking plans soon turns deliciously complicated. And the sultry summer might bring together all the right ingredients for Marco to win the only woman he's ever wanted.