Summer on Blackberry Beach by Belle Calhoune: Luke Keegan returned to his hometown after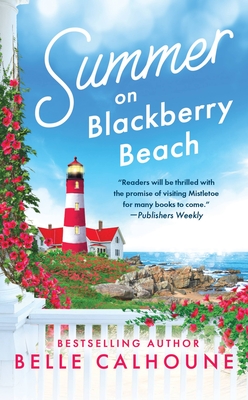 being injured on a mission as a Navy SEAL. While trying to recover, he is also dealing with PTSD and the guilt from the death of two of his team members. He was discharged from the Navy due to his injuries, so he needs time to plan his future. He knows he is not in a position emotionally for relationships so when every single female in town wants a date with him, he hopes a fake relationship will hold them at bay.
After being dumped days before her wedding Stella Marshal, a teacher, is on a hiatus from relationships. Summer break was about to begin, and she could not wait to enjoy the summer with her family and friends. On the last day of school Luke, the boy she had a high school crush on, makes an appearance at the school to surprise his nephew, Miles. In a small town like Mistletoe, it's impossible to keep the rumor mill quiet. So, when rumors of her dating Luke start the answer to both their problems is to fake a relationship.
Summer on Blackberry Beach is the second book in the Mistletoe, Maine series but I had no trouble reading it as a standalone. I loved the characters and all their witty dialogue. This was a cute small town, fake relationship romance that is perfect for summer reading.
Book Info:

Publication: June 28, 2022 | Forever | Mistletoe, Maine #2
Teacher Stella Marshall's summer break has just began, but the gossip is already sizzling: Luke Keegan's back in town! Stella's high school crush is all grown up and smolderingly sexy. She might even consider a fling with the former Navy SEAL, if she hadn't already sworn off all romantic entanglements. But there isn't a single thing she can do to stop the rumor mill whispering about her and Luke being together—unless . . .
A showmance! Luke never thought he'd propose a fake relationship, but it's the only way to stop the runaway speculation about their love lives. Pretending to date a woman as stunning as Stella is easy. Not actually falling for her is the hard part. Luke isn't sure he deserves a hometown happy ending, when members of his SEAL team never made it back at all. But there's real attraction buzzing between him and Stella . . . and he knows she feels it too. Could their faux summer romance lead to true love?