When Sparks Fly by Jo McNally finds recently Zoey Hartford recently divorced from her cheating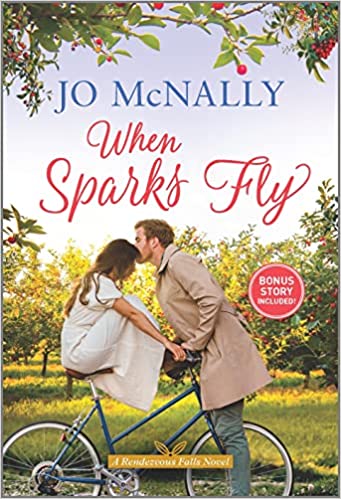 husband and raising their daughter, Hazel. Mike McKinnon is her best friend, and a widow. Both are suffering from heartbreak, but can they find healing together?
Zoey and Mike are great together. They have a solid foundation already in place to start a relationship, and it's clear that almost everyone believes they should be together, including the meddling match-making book club. The characters and the situations they are dealing with are very realistic.
Hazel is an obstacle between the pair, as she doesn't want her mother to date. The poor girl has been through a lot; the divorce of her parents, her father marrying and having a baby with the woman he left her mother for. It's understandable she'd want some control over something but asking her mother not to date was a bit much. I did like that she takes responsibility for her mistakes though and enjoyed the relationship she had with Mike.
This book isn't just about Zoey and Mike; readers are also treated to a second romance in the book between Vickie and Gordy. They are an older couple, around seventy years old, and had known each other since their school days. Vickie had convinced herself she was too old for love, so it was fun to watch Gordy break down her walls and show her that love has no age limit.
This is the fifth book in the Rendezvous Falls series, but it can be read as a standalone. I've only previously read the first book in the series and had no trouble jumping back into it here at book five.
When Sparks Fly is a heartwarming, small-town romance that will leave readers believing that there can be a second chance at love. Readers who enjoy small-town romances, friends-to-lovers, and romances featuring older couples will certainly enjoy this one.
Book Info:

Publication: August 9, 2022 | HQN | Rendezvous Falls #5
Between her business, her recent divorce and her teenage daughter who needs her right now, Zoey Hartford has her hands full. Thank goodness she has her best friend, Mike McKinnon, to keep her laughing. Zoey and Mike have gone through everything together—from chemistry class to heartbreak. They would never risk their friendship…until one unexpected but sizzling night changes everything.
Mike is torn. Funny, down-to-earth Zoey in her flannel shirts and messy ponytail always seems so in control…until she melts into his arms. But he won't come between Zoey and her daughter. They'll just keep it casual. No drama. No feelings. No messiness. What could go wrong?
But the meddling, matchmaking book club won't be denied. They may not have set them up, but they recognize a perfect match when they see one. And they're determined to help Zoey see what's been right in front of her for so long.