Sure Shot by Sarina Bowen is an enjoyable, sexy, second chance romance set in her popular Brooklyn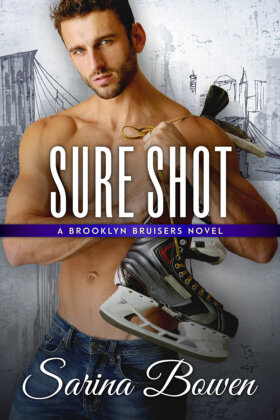 Bruisers hockey world.
Sports agent Bess Beringer has her five year plan all figured out. What she doesn't count on is a blast from the past, one Mark 'Tank' Tankiewicz being traded to the Brooklyn Bruisers and becoming part of her circle of friends.. On her 21st birthday she'd celebrated with a sexy up and coming hockey player, a night that turned into a steamy affair that lasted until she'd realized her career ambitions to be a sports agent could be jeopardized by sleeping with a player. But she'd never forgotten Tank, or vice versa.
Tank knows that trades come with the territory but moving from Dallas to New York and a rival team is proving to be a rough transition. With his wife divorcing him and his new team wary of him and his on ice fighting reputation (well earned), Bess might be one of the few friendly faces he's seen in years, even if their relationship didn't end on such a great note. Making friends of his teammates and showing them he's willing to put in the time and practice to prove himself is his top priority, but can he also convince Beth to give them a second chance, at least in the bedroom? After all, he's not nicknamed 'Sure Shot' for nothing….
I love this hockey world that Sarina Bowen has created! There are lots of familiar characters – Bruiser players (old and newer), team management, and friends and family that make reading one of the stories like visiting with old friends. Bess's brother Dave is in a crossover book between the Bruisers and her True North series (his story is Bountiful) and he and his wife Zara play supporting roles in this one along with many other series regulars.
I love seeing the players who have settled down, gotten married, and have kids and Bess definitely feels the longing for having kids when she plays with her niece Nicole. The trouble is that Tank is very upfront right from when they meet again that just like the first time around, their relationship can be all about good, hot sex, but don't count on him for any kind of commitment, especially after his failed marriage.
Bess has the same issues to deal with now as she did back when she first met Tank – preserving her reputation as a serious sports agent and not a player groupie. She and Tank keep their rekindled love affair under wraps though that becomes harder to do as she starts to fall for him. But what she wants in her future and what he can provide don't always match.
There are some more serious issues in this story, including infertility (no details but readers sensitive to this and related topics should be aware). Bess's mentor's advanced illness also impacts the direction of her future. Seeing Bess and Tank reconnect is sweet, and along with multiple sexy love scenes they get a very satisfying happy ending to their second chance romance. The author deals well with the issues mentioned above and doesn't promise magic solutions but delivers a believable and empathetic story. Fans of the series are sure to be pleased with this latest story (I am!) and new readers can easily pick up any of the stories and find themselves wanting to read more about the other characters. If you are trying to decide what to read next, Sure Shot is a sure bet.
Book Info:

Publication: May 12, 2020 | Tuxbury Publishing | Brooklyn #4
On the eve of her thirtieth birthday, sports agent Bess Beringer is ready to make some changes. Armed with a five-year plan—indexed and color coded—she'll tackle her personal life with the same zeal that she brings to her successful agency.
A big, tall, ripped hunk of hockey player who's just been traded to the Brooklyn Bruisers is not a part of that plan. Mark "Tank" Tankiewicz has a lot of baggage. He's a ride-or-die loner with a bad reputation. He's on the rebound. He's also the sexiest thing on two legs, and for some crazy reason it's Bess that he wants.
She knows better. But then she falls stupid in love with him anyway. And for a while it seems like maybe he'll do the same.
Until she asks him for the one thing he can never give her…