In Sweet Texas Fire (Sweet Texas Secrets #2) by Nicole Flockton,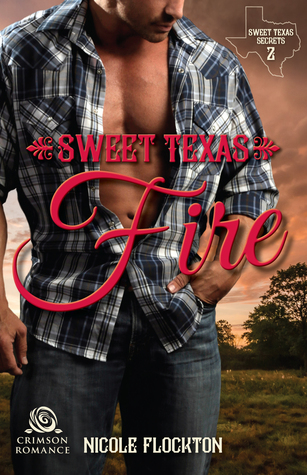 Gage Cooper can't believe Charlotte Wilkinson — the woman that has made his life difficult with her assessments of his oil properties as an environmental analyst – has inherited the property that his father promised him. Ticked off by that fact, he decides to confront her to see if they can come to some sort of agreement. However, he ends up getting on her bad side. At least until he learns of her desire to stay in the United States, and ends up offering her a way for them both to get what they want.
"Nope. Pity I wasn't on that reality show 90-Day Fiancée."
Gage spat out his drink. "What is that show?"
Charlotte blushed, the light pink infusing her face. He quite liked seeing her uncomfortable. "It's a show where people bring their girlfriends or boyfriends over from another country and then they have to get married after ninety days or they get sent back."
"Now I've heard everything. Charlotte Wilkinson is a closet reality TV junkie."
Having read the first book of this series, which is penned by another author (Monica Tillery), I couldn't wait to read how Gage would get his happy ending, because he seems the type of man that's all work and no play. And although, this book was slow to get started, I found I could not put it down once Gabe and Charlotte met. Not only because Ms. Flockton has penned a really good read containing the marriage of convenience trope, but because the Cooper brothers are three men that intrigued me with the dilemma they face. Where it seems their dad was trying to play matchmaker before he died, by granting the things they were promised to women that will hopefully give the three brothers what they need most – love.
As for the dialogue, I was kind of hoping that Charlotte slapped Gage when they first met because he was a tad harsh with his accusations. Of, how did she manage to get his dad to grant her the land in his will? There were some light-hearted moments between Gage and Charlotte that made me smile. Yet, the dialogue also becomes intense due to Gage doing something stupid to break Charlotte's trust in him and whether their marriage will get Charlotte the green card she wants to stay in America.
"So you don't need to make that impression with me?" She patted the cat, who started purring before she curled up in the middle of her desk.
"Red, you know when it comes to our relationship, you are the one who is tough-nosed. Not me."
Charlotte shook her head. "I don't know whether I've just been complimented or insulted."
"Definitely complimented."
I really liked both main characters, as well as the secondary characters. Gage's brothers aren't all that happy about his spontaneous decision to marry Charlotte, but I'm glad that they accepted his choice because the heroine is good for him. The heroine feels as though she's never really belonged, but living in the States feels right, so she really wants to stay. And if that means accepting Gage's deal knowing that he's someone she could fall in love with, she accepts anyway. She's strong, brave, hard-working, stubborn and independent. Trying to fight her attraction to Gage proves difficult, but with their marriage being temporary, there's no way she can give in so easily. However, with Gage being so persistent, Charlotte caves and eventually, some really hot sex scenes illustrate this couple's strong chemistry, which was there from the moment they met.
While Gage, he's tenacious, confident, and hard-working. He'll do anything to get what he wants, and if asking Charlotte to marry him will get him the land, he'll do it. He was in for a surprise not just with adjusting to married life with Charlotte because she's a challenge. But also when he discovers certain things about his dad and a box filled with love letters that may hold the key to his happiness. In other words, his father wants him to learn a lesson he never learned, so Gage doesn't make the same mistakes as his old man. A lesson about how love and family are more important than business.
Overall, this was another wonderful novel by Ms. Flockton and I'm really looking forward to reading the other book of this series featuring Grayson Cooper. I really liked how this story ended with Gage proving to Charlotte that he wants her forever by creating her perfect home, and Gage's final words about how he finally understood the meaning of the note he received from his father after the man's death.
I would recommend Sweet Texas Fire by Nicole Flockton, if you enjoy the marriage of convenience trope. Moreover, I would recommend reading the first book of this series as well, which is called Sweet Texas Kiss and is penned by Monica Tillery.
Book Info:

Published: April 11th, 2016 | Crimson Romance | Sweet Texas Secrets #2
Small town. Big secrets. Welcome to Sweet Ridge.
Gage Cooper has always wanted the family cabin. Not only for the oil on the property, but as a way to prove to his father that Gage's past doesn't define his future. When his dad wills the land to stranger Charlotte Wilkinson and all Gage gets is a mysterious key, he's determined to do anything to get his rightful inheritance back.
Charlotte Wilkinson never expected to inherit a piece of property in Sweet Ridge, Texas—the Aussie businesswoman is focused on building an environmental analyst career here in the States. But the moment arrogant oil-man Gage Cooper walks into her office accusing her of seducing his father, all plans for selling the property to him fly out the window.
Then fate threatens to send her back to Australia and the dueling duo are forced to accept a fake marriage to keep their dreams alive. But as they discover common ground and a surprising chemistry together, suddenly Gage must decide what's worth more: the land he's always coveted or a future with Charlotte.