Tactical Force by Elle James is book #5 in her Declan's Defenders series. This series has consistently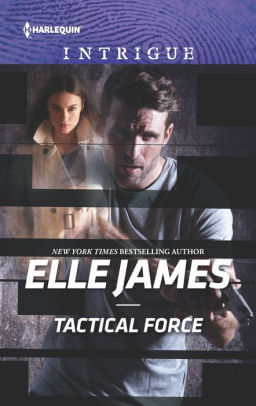 been a great action adventure read. Tactical Force is no exception.
The texts she was receiving really bothered her. Since the death of John Halverson she has been trying not to be noticed. With John's death her reports had stopped so she thought she was forgotten. No such luck.
According to the text messages TRINITY was aware of her. The messenger was looking for her help. Anne Bellamy, DC staffer for National Security Advisor Shaun Lewis, just wanted to ignore the messages. Then on her way to the DC Metro station after leaving work she thinks she is being followed. It looks like there is no open public place to duck into until she spots an open bar. Thank goodness! Just as she is about to reach out to open the door to the bar a hand grabs her shoulder and starts to jerk her back. Fortunately the bar door opens just then and some men exit. The hand lets go of her shoulder so she runs into the bar. Scared to death she feels her only option is to call the number John Halverson gave her to use in case of an emergency. Pray that someone answers! John's widow Charlie answers and sends one of her Declan's Defenders to get her home safely. But there is no safety there.
Declan's Defender Jack Snow picked Anne up at the bar on his motorcycle, managed to lose the car following them and insisted he escort her to her apartment door. Good thing. What they found inside Anne's apartment was total destruction and a threat painted on her bedroom wall. Looks like Jack Snow and Declan's Defenders have a tough job on their hands.
The suspense is edge-of-your-seat. The characters in Declan's Defenders are hard-nosed, tough guys with tender soft spots for the ladies they fall for. Jack Snow is super protective of Anne Bellamy even when she asserts her independence. Anne is smart and quite brave. I have enjoyed the Defender's tough fight against TRINTY throughout the series. This is a recommended read for romantic suspense fans.
Book Info:

Publication: January 17, 2020 | Harlequin Intrigue | Declan's Defenders #5
Their search for an assassin makes her the next target.Two attacks on DC staffer Anne Bellamy's life are just the beginning of a terrorist threat from a group that aims to assassinate the US president. It's all-out war for former elite Force Recon marine Jack Snow, who is tasked with keeping Anne alive. As his mission takes him undercover into Washington's power circles, can he protect his country and the woman who's become way more than just an asset to him?