In Credence by Penelope Douglas, Growing up with famous parents in Hollywood should have been a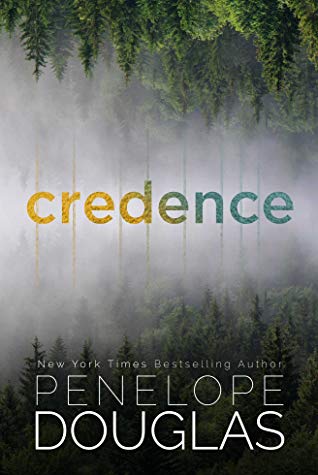 blessing for only child Tiernan de Haas. Money, vacations, designer clothing, the seventeen year old has plenty of…stuff. But the two things she craves most, love and attention, she's never had. After the tragic death of both her parents, Tiernan finds herself being shuffled off to her step-uncle's home in remote Chapel Peak, Colorado. Even though she's never met Jake Van der Berg, or her step-cousins Noah and Kaleb, she figures she'll give staying with them a try. At least the mountain scenery will be beautiful. And Tiernan's certainly used to being the odd person out, so that won't be anything new.
'It doesn't matter where I go–how I change my surroundings or run from all the places and people I don't want to see. I'm still me. Running, leaving, hiding…
There's no escape.'
But once Tiernan meets her "family" and realizes she'll be holed up with the three strangers for the entire snowy winter alone, she's not sure it's such a good idea. Then tension between them is unnerving. Tiernan has never been so conflicted in her feelings before and has no one to turn to in hopes of sorting through it all. One thing she does know is that Kaleb, Jake, and Noah are fiercely protective of her. Which, even though it's a little scary, is also nice. Tiernan has never felt so much affection or like someone has her best interest at heart before the Van der Bergs. And she's not at all certain she'll be able to leave them once springtime rolls around.
I stop to face him… "I'm not their property."
"Everything on their property is their property… They live by different rules up here, Tiernan."
Credence was a dark romance where taboo relationships were explored as four individuals tried to bond and move on from the tragedies and harrowing incidents they had survived over the years.
"And I want you to know that no matter where you go," he tells me between kisses, "you'll always be ours. We're your home."
Trigger warning: View Spoiler »Child neglect, suicide, dubious consent. « Hide Spoiler
First off: Credence will *not* be a book that will work for everyone. It is super twisted, dark and forbidden, and pushes some major boundaries. It's difficult to explain without giving away too much, but you can imagine where things led to with an almost eighteen year old beautiful girl moving into a remote location with three handsome guys right before winter, where they were going to be snowed in for months. Yep. Lots of sexy time. And where Tiernan was technically family–even though she'd never met them before and they were not blood related–the attraction to her "step-uncle" Jake and his sons Kaleb and Noah, her "step-cousins", might put some readers off. It honestly skirted the line for me at times. But somehow with Penelope Douglas's emotionally-driven writing and with seeing things through the multiple POVs, it worked out okay in the end for me.
There was an interesting mix of characters and personalities in Credence. And I honestly think that's what held my attention most was seeing Tiernan interact with the guys and with the locals from the closest town. Some of it was, yes, over the top. But it was raw and honest, watching her heal from the loss of her parents while also learning who she truly was as an individual. Tiernan had a lot of drama in her life unfortunately. And Kaleb, Noah and Jake brought even more of it to the situation. I do think readers will (eventually) like where each character ended up, but boy will it be a bumpy ride getting to that point. Of all of them, I think Kaleb is likely the one who will be the most misunderstood/least liked until the last quarter or so of the story. So basically, I'd say to just give each of them a chance to show their true selves and you might be surprised in a good way.
Leave it to Penelope Douglas to create such a compelling, tangled up story. Erotic, provocative, and ultimately filled with joy and love, Credence was a reading experience I won't soon forget.
Book Info:

Publication: Published January 13th 2020 | Penelope Douglas LLC |
From New York Times bestselling author Penelope Douglas comes a new standalone…
Tiernan de Haas doesn't care about anything anymore. The only child of a film producer and his starlet wife, she's grown up with wealth and privilege but not love or guidance. Shipped off to boarding schools from an early age, it was still impossible to escape the loneliness and carve out a life of her own. The shadow of her parents' fame followed her everywhere.
And when they suddenly pass away, she knows she should be devastated. But has anything really changed? She's always been alone, hasn't she?
Jake Van der Berg, her father's stepbrother and her only living relative, assumes guardianship of Tiernan who is still two months shy of eighteen. Sent to live with him and his two sons, Noah and Kaleb, in the mountains of Colorado, Tiernan soon learns that these men now have a say in what she chooses to care and not care about anymore. As the three of them take her under their wing, teach her to work and survive in the remote woods far away from the rest of the world, she slowly finds her place among them.
And as a part of them.
She also realizes that lines blur and rules become easy to break when no one else is watching.
One of them has her.
The other one wants her.
But he…
He's going to keep her.
*Credence is a new adult standalone novel suitable for readers 18+.