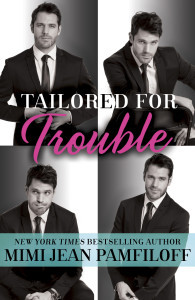 In Tailored for Trouble (Happy Pants #1) by Mimi Jean Pamfiloff, Taylor Reed's attempts to succeed with her new business have been met with little interest. Who knew cranky CEOs wouldn't take kindly to being told they need to be kinder and, well, more human? So when Bennett Wade–the most egotistical man she's ever met and also the guy who got her fired from her previous job–wants to hire Taylor, she has to wonder why. Is he being truthful in his request? Or is there some hidden motive behind Bennett's interest in her program?
"…Why in the world do you want to hire me?"
He looked down at his palms for a moment before meeting her gaze. "Because you and I are the same–we see the world in terms of ideals. Black and white. Right and wrong. Success and failures. Never any grays."
"So you're saying we're both hyper-judgemental and rigid."
Taylor and Bennett get along like oil and water, constantly bickering and clashing wits. Not that there isn't a lot of tension, of the sexual variety, simmering between them as well. And the more of his true character she witnesses while she travels the globe with the handsome devil, the more Taylor thinks Bennett might actually be a nice guy under the gruff persona. But when she tries to take matters into her own hands and help him out with a business deal gone bad, she might make too much of a mess of things and cause an irreparable break in their hard-won trust in each other.
"Opening up doesn't come easily for me, Taylor. But I promise, if you give me time, you'll understand my actions. All of them. I'm not a bad guy. I just…do things my way. It's the only way I know how."
What a fantastic ride it was reading Tailored for Trouble! Sizzling chemistry. A completely misunderstood hero. A stubborn, brave and caring heroine. And a trek across the world that will leave readers breathless. How could it *not* be entertaining, right?
'The picture of Bennett in her mind had rapidly evolved from a slime-covered gargoyle with fangs, packaged in the body of a sex god, into a celestial being, close to earning his fluffy wings and a halo. Yes, still packaged in the body of a sex god.'
I fell in love with Mimi Jean Pamfiloff's quirky sense of humor and intriguing characters after reading her paranormal novels. And while this was a straight up contemporary romance, I'm so happy that it still reflected everything I've come to love about her writing style. I'll admit, though, that this was a kind of 'will-they-won't-they' story right up until the very end, which usually annoys me, but in this case it had me sitting on the edge of my seat. There was such sincerity and honesty in how Bennett and Taylor reacted that I don't see how these two individuals could have handled their situation any differently. And that kept me from getting too frustrated with them.
I have to say that I was not impressed with Bennett at first. He was crass, egotistical, rude and kind of a jerk. (In some ways he actually reminded me of Drew Evans from Tangled by Emma Chase) And I know some readers will roll their eyes at this, but there was a really, really good reason for his behavior. Unfortunately, explaining the heartbreaking reason would give away too much of the storyline so you'll have to take my word for it and just believe that Bennett's heart was always in the right place. So, don't give up on him or the story! It all worked out eventually. One thing I can mention without spoiling things is that he was sort of a momma's boy, in the nicest and sweetest of ways. And his mother was an absolute hoot to get to know. I just adored how she befriended Taylor in the midst of everything and how that all played out.
Speaking of Taylor, now she was a kickass heroine. She was highly intelligent, loyal and a bit of a feminist. So in other words, she didn't take any of Bennett's crap. And I loved that about Taylor. She did make one decision toward the first third of the book that I could see would come back to haunt her, but I understood her reasoning behind it. And I think I would have been just as confused and awe struck/smitten/head-over-heels as Taylor was when it came to Bennett. Theirs was a very complex relationship thanks to the different issues they both were working through personally, but I think readers will agree that it was one heck of an exciting courtship between them!
This was a super hot, fun, heartfelt and feisty romance that will have you wondering where Bennett Wade has been all your life. From Taylor's comical inner monologues to the witty bantering between her and Bennett, I truly hope readers will get as much enjoyment out of this story as I did.
Book Info:

 Published August 9th 2016 | by Ballantine Books | Happy Pants #1
A sassy, sexy, laugh-out-loud rom-com between the hottest man never to be tamed and the woman crazy enough to try
SHE WANTS TO CHANGE THE WORLD.
Taylor Reed is no stranger to selfish, uncaring CEOs. She was fired by one, which is why she has created her own executive training program—helping heartless bosses become more human. So Taylor shocks even herself when she agrees to coach Bennett Wade, the cutthroat exec who got her unceremoniously canned. She'd love to slam the door in his annoying but very handsome face, but the customers aren't exactly lining up at her door. Plus, this extreme makeover will give Taylor the golden opportunity to prove that her program works like a charm.
HE WANTS TO BUY IT.
Bennett Wade is many things—arrogant, smug, brusque—but trusting isn't one of them. Women just seem to be after his billions. So when he hires Taylor Reed, he has no desire to change. Bennett is trying to win over the feminist owner of a company he desperately wants to buy, but something about the fiery Taylor thaws the ice around his heart, making Bennett feel things he never quite planned on. And if there's one thing Bennett can't stand, it's when things don't go according to plan.
They are a match tailor-made for trouble.