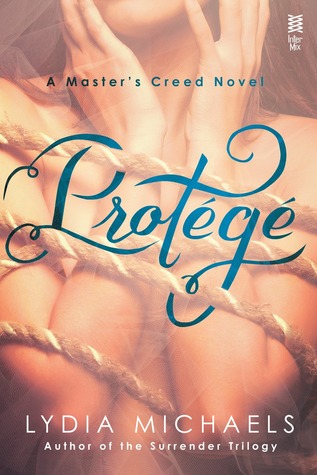 Protege by Lydia Michaels: Collette is searching for something that has been missing in her life. She longs for the stability of a committed relationship, but she hasn't found anyone that matches her and who wants the same things in life. She's hoping to find her match through an exclusive, secret society.
Jude co-founded this society and has strict rules for admission and how to match partners. It's a world that doesn't judge others for what they desire and need within a relationship. He's surprised by Collette and she intrigues him. She's new to the world where she's seeking entry and acceptance, and she's pretty open to try just about anything. After some debate, it's decided that Collette will have a month long trial run…as Jude's protégé.
"Cheeky peach. Thank you." He sat up. "Are you ready to go?"
"What? I thought we'd start tomorrow."
He shook his head. "The contract's signed. You're mine for the next thirty days. Is your bag packed?"
"But…"
Collette thrives on taking care of Jude and making his life easier. She also finds that Jude's clear instructions are a comfort as she navigates the world of submission. Her journey is greatly aided by the overwhelming attraction she feels for Jude. He's not looking for permanent, but the lines become blurred as they find they are a better fit than either expected.
"Trust."
"Correct. And that trust, Collette, goes beyond the good faith that I will keep you safe and not abandon you. That trust extends your confidence in my judgments are fair and wise and always in your best interests."
Protégé is an erotic exploration within a secret world where everyone defines their own normal. Lydia Michaels provided an intriguing set-up and a great first meeting between Jude and Collette. Ms. Michaels created an interesting world with a unique cast of characters. Fans of Elia Winters and Lauren Smith will enjoy Protégé.
Book Info:

 Expected publication: August 16th 2016 | Penguin Group USA (LLC) |
The author of the provocative Surrender Trilogy presents a new novel of one woman's introduction to a world of sinfully sweet submission…
For too long, French teacher Collette Banks has locked her deepest desires away in the darkest corners of her mind. But now, she's taking matters into her own hands by applying to a secret and exclusive society devoted to matching people with their ideal partner—or partners…
Founder Jude Duval has set up strict rules for admitting people into his world. But when he interviews Collette, he finds himself breaking protocol. Her innocence disarms him. Her willingness to explore her own sensuality delights him. And her spirit challenges him—enough to take her on as his own protégé .
What starts out as Collette's erotic awakening will draw them both in deeper than either of them could have ever imagined…