Take Me Harder by Jackie Ashenden is the third book in the Texas Bounty Hunter Series and it's definitely a page turner.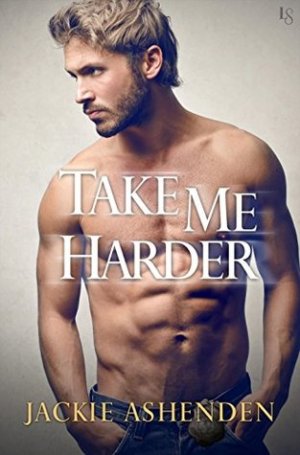 A cop and an ex-con take stage in Take Me Harder and trust me, it's a wild ride! Rush Redmond went to prison for something he didn't do and now he's out after eight years, but he's different from the man who went in. He's much harder now and Ava St. George is about to learn this. Ava needs Rush's contact list to find justice in her mother's murder, but getting answers from Rush will not be as easy as she thinks. In fact, Ava will have to get creative to get his attention.
"Aw, I'm not sure we're at the handcuff stage yet, honey. Though I'm into it if you are."
Rush isn't your normal cookie cutter hero and you shouldn't expect that with a Jackie Ashenden novel. He's a bit of a jerk, but what do you expect from someone out of prison for something he didn't do? In the end, he eventually snaps out of it and thankfully, he does it before it's too late. As for Ava, what you see is what you get. She's a newbie cop who doesn't have many work friends because her father's the sheriff. She's direct with Rush from the very beginning and doesn't stray from what she wants.
I adored the pairing in this story! A cop and an ex-con is magic to me because right off the bat, you know their story isn't going to be an easy one and Take Me Harder proves that. Sparks fly between Ava and Rush and their chemistry will light the pages on fire. Highly recommended to those who enjoy their characters with attitude!

Book Info:

Publication: February 7th 2017 | Loveswept | Texas Bouty #3
An ex-con with a bad-boy reputation falls for his childhood sweetheart—a good-girl cop chasing a ruthless killer—as the Texas Bounty series gets steamier than the Lone Star State.
Rush Redmond never expected freedom to taste so bittersweet. He spent eight years in jail doing someone else's time, and for what? As an ex-con, Rush can't work as a bounty hunter like his brothers—not in Texas. Better to drown his sorrows with a stiff drink and soft curves. Too bad the temptation he craves is a redhead with a badge: Ava St. George. Once upon a time, Rush would've done anything for the sheriff's innocent daughter. Now he's fighting the urge to let her sweet-talk him into some trouble he can't afford.
Even though she's a cop, Ava knows that sometimes justice means pushing the boundaries of the law. To track down her mother's killer, she turns to the man with the county's criminal underworld in his little black book. The boy she knew is still drop-dead gorgeous, with panty-dropping charm as smooth as his smile. But his sculpted arms and the menacing gleam in his eyes scream "Don't mess with me." Yet Ava needs Rush more than ever—in more ways than one.