In A Debt Paid in the Marriage Bed by Jennifer Hayward, Lorenzo Ricci never thought he'd see Angelina Carmichael again, but it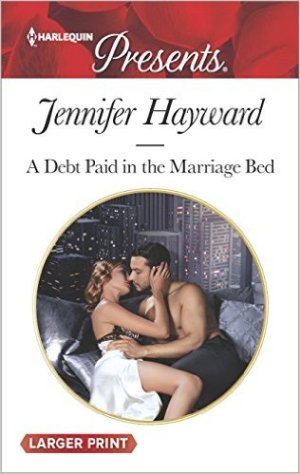 turns out they're still married. When he turns up at her engagement party with the news, he can't blame her for the less than warm reception. Still, he isn't about to let her get away when he needs her and if he has to blackmail her to get her to acquiesce to his reasons for needing her back in his life and his bed, then that's what he'll do.
Her face crumpled as realization set in. "What are you insinuating? That you will pull the plug on the aid you're giving my family, toss me out on the street if I don't agree to come back to you?"
"I prefer to think of it as incentive. We owe our marriage a fair shot before we relegate it to the history books. You come back to me, we try to make it work, I pull Carmichael out of its financial difficulties before it becomes a footnote in a list of great American dynasties. It's a win-win."
Angelina Carmichael always knew her ex played dirty, but she never thought he'd go to the extreme of blackmailing her. Now she finds herself fighting for their marriage to work to save her family; a family she has avoided to stay sane. Still, she's not about to give in to his every demand, and unless they can find a way to compromise, than there's no chance they'll get the happy ever after they both want.
What a powerful and emotional second chance romance Ms. Hayward has penned in this story, which had me wanting to cry at times for the heroine because of her family issues. How is she supposed to live her life when she has to bail out her family from trouble? Why should she be the one to make all the sacrifices? The way this story started was captivating and drew me into this story immediately. How could the hero's lawyers have made such a big mistake? How is he going to explain to the heroine what has happened, knowing what her reaction will be since she's engaged to another man?
The dialogue was well-written and intense due to the history between these two, all that they go through on their journey to achieve happy ever after, and the characters back stories. Neither have had it easy in life with Lorenzo having lost his first wife and blames himself for what happened to the woman he loved and the heroine having to deal with her messed up family. Can Angelina help Lorenzo to overcome his guilt? Can Lorenzo help Angelina when it comes to her family? Can they overcome the issues that sent the heroine running from the hero in the past? However, the dialogue wasn't all intense throughout this story. There were certainly some playful moments where Lorenzo does his best to break down Angelina's high walls. Can he seduce her?
His lip curled. "What's the matter, mia cara? You afraid I'm going to penetrate those defenses you cling so desperately to? That make you feel safe?"
A defiant look back. "Just like yours do?"
"Ah, but I am promising to open up." A lazy smile twisted his lips. "I'm a caterpillar poised for transformation. You get to come out of your cocoon, too, and try your wings."
"Very funny." She pushed at his chest. "Off."
He dropped his mouth to her ear. "An open book, Angelina. That's what you and I are going to be. The brutal truth and nothing but. We might just survive this little experiment if we can offer each other that."
Both the main characters are compelling, and I loved how much the hero is determined to make their marriage work. He's not about to give up on the heroine a second time, no matter how difficult she is towards him. He's arrogant, stubborn, yet they weren't unattractive qualities for him, considering he's a businessman that will do anything to succeed. At times, the heroine's defenses seem impenetrable, especially with everything she's gone through in the past to get to where she is in the present, yet the hero is determined to get Angelina to open up about her past and why she avoids her family until they absolutely need her. While Angelina, she's strong, brave and I liked how hard she's worked to get to where she is in her life. Her business sounds very fascinating and I could understand how she'd turn to it anytime the going got tough.
Overall, Ms. Hayward has penned a worthwhile read in this book where emotions run high and definitely up the sexual tension between the hero and heroine; tension that spills over onto the pages in sex scenes filled with lots of exquisite passion that illustrate how much these two need each other to heal from the hurts of their pasts. However, it was the epilogue that wrapped this story up wonderfully, because it shows how far Lorenzo has come in not allowing business to get in the way of family life and his time with the heroine. I would recommend A Debt Paid in the Marriage Bed by Jennifer Hayward, if you enjoy second chance romances or the blackmail trope.

Book Info:

Publication: February 21st, 2017 | Harlequin Presents |
The unwilling Ricci wife…
Angelina's world is shattered when Lorenzo Ricci walks through the door of her engagement party and demands she call off the wedding—because she's still married to him! She left the formidable Italian to save her heart, but now, with her family business at stake, Angelina must consider his terms…
In need of an heir, Lorenzo will use any means to reclaim his wayward wife and return her to their marriage bed. He'll make her debts disappear if she repays him…in desire! The chemistry may be alive and well between them, but can they survive their tempestuous reunion unscathed?