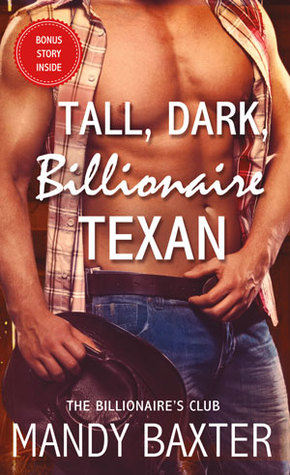 To start with, Tall, Dark Billionaire Texan by Mandy Baxter consists of three previously released stories: The Billionaire Cowboy, The Billion Dollar Player, and Rocked by the Billionaire, all part of the Billionaire's Club: Texas series. The fourth story, The Billionaire Sheriff, is new and is actually part of the Billionaire's Club: Texas Heartthrobs series. These are all novellas.
The Billionaire Cowboy, the Billion Dollar Player, and Rocked by the Billionaire feature the Blackwell brothers. Ryder runs a successful ranch, Jase is a professional football player for the Dallas Cowboys, and Luke is the lead singer of a popular band. Ryder tries to find love with a local vet, who is hesitant to be with him because of his reputation with women around town. Jase finds love with a woman waitressing at one of the team's parties. Luke wants nothing more to escape the pressure he's been under, including dealing with a paternity accusation, and runs back to Ryder's ranch and into the arms of his ex, the woman he left brokenhearted when he took off years ago.
My favorite of the stories is the one that also felt a little out of place in this collection. In The Billionaire Sheriff, Sheriff Noah Christensen falls for the new owner of the bar in town. When it's clear that Naomi is in trouble and doesn't confide in him, he does whatever it takes to keep her safe and prove to her that she can trust him. While I enjoyed the story, I think it would have been better put in a collection with the stories about his other brothers. At first I was confused, thinking that he was somehow connected to the Blackwell's, only as I read on I discovered that wasn't the case. In fact, their story isn't even set in the same town as the Blackwell's, hence why it felt out of place.
Overall it was an ok read. Since the stories are so short, I didn't feel like I really got to know the characters and, with the exception of The Billionaire Sheriff, the stories felt rushed. They weren't bad; I just would have enjoyed them a little more if there had been more substance to them.
This collection has a little something for everyone: cowboys, football players, rock stars, and small-town law enforcement. If you're looking for a quick read, this may be a book for you.
Book Info: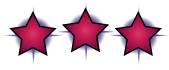 March 1, 2016 | St. Martin's Paperbacks | Billionaire's Club #4
In The Billionaire Cowboy, Ryder is a rough-riding cattle baron. When a gorgeous, feisty veterinarian arrives at the ranch, he meets the one spirit he can't tame. And now he will do anything to show her what he's really made of…
Dallas Cowboy Jase is a pro at charming women, including the hot waitress he meets in The Billion Dollar Player. But when their passionate encounter inspires Jase to do better on the field, he can't help but wonder: Are his days as a player numbered?
Rock star Luke has enough money and groupies to last forever. But when his wild life wears him down, he goes home in search of the one woman who's ever meant anything to him. But will she see past his fame and love him for who he really is in Rocked by the Billionaire?
In The Billionaire Sheriff, Noah pulls shifts in the police department. He doesn't need the money, but he wants to make a contribution. So when beautiful bar owner Naomi lands in trouble, Noah is eager to help her out…and offer protection in his strong, loving arms…