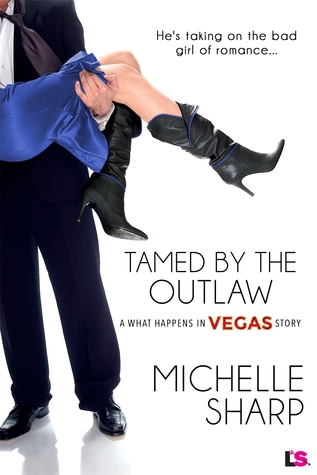 In Tamed by the Outlaw by Michelle Sharp (a What Happens in Vegas story), a simple misunderstanding has left Jessica Jameson loathing Grayson Reynolds – CEO of the publishing company she's contracted to as a romance author – for a year now. He'd lied to her about his name before they spent an incredible night together, and then disappeared the next morning without saying goodbye, or so she believed. When he reappears in her life, she's less than thrilled. Yet, it's not as if she can ignore him, when he dares her to a game of poker. Where the stakes are high, and could cost them both, what they desperately need in their lives – love.
"I didn't give you a chance to explain?" Jessie let out a sarcastic laugh and poked him – hard – in the chest. "Here's a piece of advice for you, Ivy League. Lies tend to piss women off. Find the time to explain who you are before you put your mouth on a woman's breast."
As you can see from these lines, Jessie lives up to her nickname. Her frequent tendency, of speaking her mind without thinking, was reason enough to keep me interested in a book, which didn't fully capture my attention until the hero was introduced. In fact, it felt a little slow to get started, even though the opening line was a good one.
Sparks fly between Grayson and Jessie the moment they come face-to-face again. Their arguments; and her standoffish attitude really invigorate the story, increasing the sexual tension until you're practically begging, for them to take a chance on each other again. To finally move past all the animosity, and discover just how good they could still be together.
Rather strong chemistry ignites some really passionate sex scenes that had me hoping for more. Because the strong feelings that exist between them deserved to be explored further. What I liked so much about both characters was their back stories. They had similar ones that it was no wonder they clicked so well. Yet, in saying that, how could Grayson be so cynical in his opinion of love? Especially when love, and happy ever after were two things Jessie truly believed in. Her career as a romance author proves that.
Overall, I really enjoyed this story. It was a surprisingly good book in the end, and I especially liked the way the author wrapped it up. Grayson's way of proving his love for Jessie certainly made me smile. I would recommend it to romance readers that love the opposites attract trope, and a sassy heroine that likes to push the hero's buttons. Enough to make you question whether he's going to strangle or kiss her.
Book Info:

August 17th, 2015 | Entangled Publishing | What Happens in Vegas
Author Jessie Jameson is the Bad Girl of romance, making a huge name for herself writing love stories with sizzling hot sex scenes. No one needs to know that her real-life inspiration is sexy publishing exec Grayson Reynolds. Or that after the hottest sex of her life, Grayson walked out on her.
Grayson's finally taken the reins of his family's publishing business, and he's determined to sell off the romance division. But Jessie Jameson's contract is complicating things. It's like she's been trying to ruin him ever since the mind-blowing night they shared-the night she walked out on him.
Now the sparks are flying. Heated, sexy sparks. It's a Wild West showdown between Jessie and Grayson. But when Romance ends up in bed with Business, only one can walk away…