Taming Her Mate by Kathy Lyons is the sixth book in the Grizzlies Gone Wild series. Detective Ryan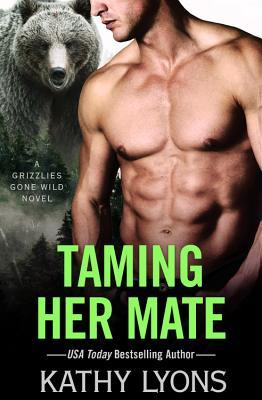 Kennedy is a bear shifter determined to discover who is poisoning Detroit's water supply, causing people to come down with an illness similar to the flu. Francesca "Frankie" Wolf knows exactly who's responsible. Being forced into becoming a wolf hybrid, she wants to lead the pack, but in order to do that she needs to get the person responsible for the poisoning out of the picture. She turns to Ryan and the Grizzlies for help. They're suspicious of Frankie but agree to work with her in order to stop what's going on. When all is said and done, will a bear and a hybrid wolf shifter become an unlikely couple?
I felt for Ryan. He had been adopted by non-shifters and his family isn't accepting of his bear half. He had also been betrayed by the previous alpha of the bears, Nanook, who had ordered Ryan to be attacked and just stood and watched as he almost died. As a result, Ryan doesn't trust easily. He doesn't trust his new alpha, Simon, he doesn't trust the other grizzlies, and he has a hard time trusting Frankie, even after he develops feelings for her.
I also felt for Frankie. She had not been able to shift and her younger brother, Raoul, injects her with a drug that forces her to partially shift, becoming a hybrid, and she suspects he's responsible for the death of her older brother two years earlier. Her father has seemingly lost control of the pack and all she wants to do is take control and make things better, however, people look down on her because she can't fully shift. She tries to warn the bears about the plans the wolves have to attack them, but Simon and Ryan struggle to believe her.
I also admired Frankie. She's a strong character. Even though the grizzlies are suspicious of her, she never gives up trying to convince them of the truth, no matter how much danger it puts her in. She's not afraid to take a stand against her brother, and even her father when need be. She's determined to do what's right not just for her pack, but for the bears and the humans of Detroit.
This is the sixth book in the series and I would recommend reading the series in order. I haven't read any of the other books; as a result, I felt like I was missing some things when it came to Ryan and the grizzlies. I would have liked to have a little more background on the grizzlies, as well as how Simon came to be the alpha. I enjoyed this book though, so I would like to go back and read the other books in the series.
Taming Her Mate will draw readers in from the first page and will keep their attention to the end. With a nice blend of romance and suspense, readers who enjoy paranormal romances are in for treat with this book.

Book Info:

Publication: March 19, 2019 | Forever Yours | Grizzlies Gone Wild #6
Detective Ryan Kennedy doesn't have time for distractions. As the only bear shifter on the police force, he's responsible for investigating the cause of the mysterious flu-like illness that's ravaging the citizens of Detroit. But when the beautiful daughter of a rival clan's alpha asks for his help, Ryan realizes that she may hold the key to stopping the virus. If only he can focus on the case and not on how much he wants to kiss the enemy.
Francesca Wolf knows who's poisoning the city, and she has a plan to take him down, but it will only work if Ryan follows her lead. Frankie's strong, passionate spirit makes her slow to ask for help, but time is running out and the sexy-as-sin cop won't submit to her demands. Instead, he's giving her orders and firing up her passions just when she needs to stay calm. They'll have to work together-as equals-to save the city, to keep each other alive, and to contain a hunger that might just burn the whole city to the ground.