Engaged to the EMT by Piper Rayne is book three is the Blue Collar Brothers series and my first book from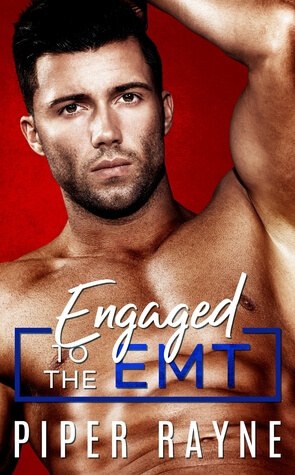 these authors. I had no expectations going in, but was pleasantly surprised about how much I enjoyed reading Luca and Lauren's story. Even though these characters make appearances in the other books, I had no problems with diving right and getting lost in their story.
Luca is a paramedic and also believes himself to be god's gift to women. He's definitely no saint and knows he looks good. When he is auctioned off at the First Responders Fallen Heroes Bachelor Auction, he can't wait to see which beauty gets the highest bid for a date with him. What he didn't count on was Lauren winning, especially since she herself, did not bid on him.
Lauren is a pediatric physical therapist and doesn't have time for Luca or his arrogance but since her friend did bid a lot of money on him at the auction, she has to suck it up and deal with him.
"Your friend was the highest bidder from the auction."
"Why don't you print it on a ribbon and pin it to yourself like a prized pig at the state fair."
The date ends up being mutual beneficial for both of them and before they know it, they are engaged. The engagement is fake, but still. Luca needs someone to play his fiancée and Lauren is the perfect woman because she won't cling to him and his mom, who's sick, likes Lauren. He thinks he has the perfect plan in place but before either of them know it, their pretend relationship is becoming very real.
Lauren and Luca's banter was hilarious. Neither one of these characters gave an inch and I loved it! Luca was cocky, but Lauren could handle it. Lauren was independent, outspoken, and the only woman who could tame Luca. Luca is sexy, confident, and surprisingly sweet. Both characters had underlying layers to them that made them more to each other.
For those who enjoy the enemies to lovers' trope and/or need a good laugh, definitely pick up Engaged to the EMT. You won't be disappointed.
Book Info:

Publication: December 6th 2018 | Piper Rayne | Blue Collar Brothers #3
Luca Bianco is a jerk. There I said it.
He thinks he's so suave and sexy, walking around in his paramedic uniform stretched out by all his hard muscles and saving lives every day. I swear he thinks every woman in the world would kill for a chance to be with him.
Men like Luca are good for one thing only — a one-night stand — not commitment. I don't care if my friend did pay good money at a charity bachelor auction for me to go on a date with him, I refuse to do it.
That is until Luca offers me a deal I can't refuse, and I agree to be his pretend fiancé.
The heat that's simmered between us for a decade ignites and I'm not sure even Luca will be able to kickstart my heart after I call code blue.
What's that saying? Love is blind?
Not true. I can see this head-on collision coming a mile away.