In Tanner's Promise (Harlow Brothers #1) by Kaylie Powell, Tanner Powell is determined to make a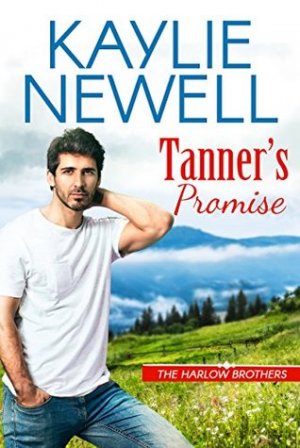 name for himself when it comes to his landscaping business. However, when tragedy strikes and he finds himself temporary guardian of his younger sister, his life is turned upside down. Luckily, elementary school teacher Francie Tate is wiling to help him out and take care of his sister while he's working. Yet, the more time he spends with Francie and his little sister, the more he finds himself wanting to do what's right by his family. Will Tanner decide to do what's best by his little sister or will he let his shot at happy ever after slip by?
What an entertaining, interesting and engaging read Ms. Newell has delivered in this first book of her Harlow Brothers series where the hero and heroine have fascinating back stories and history between them that had me reading quickly, determined to discover more about them and what decision the hero would make about his sister because it's palpable they love each other very much, but he doesn't believe he can be all that the little girl needs as a guardian.
As for the way this story started with the prologue, it drew me in immediately, as the hero is a good guy and determined to do the right thing by his little sister. However, it was from the moment the hero and heroine came face-to-face for the first time that I loved, as Francie gets quite the shock once she realizes just who the hero is in terms of how she knew him in the past. Will Tanner take her surprise well?
With the dialogue, it was intense due to the main characters back stories because Tanner didn't have the easiest of times growing up and Francie is a painful reminder of all he suffered. Will he be able to let the past go? However, the dialogue wasn't all intense. Really, there were moments where playful banter showed the closeness between Tanner and his siblings and between Tanner and Francie. Then again, Francie is really good with Tanner's little sister and I loved the growing friendship between them, as the heroine comes in handy when the young girl needs a woman to talk to. Moreover, I really enjoyed both the main characters, especially because it's palpable that both have changed a lot since high school with Francie finally f trying to please willing to speak up instead of trying to be friendly with everyone.
Francie frowned. "See? Now you're upsetting your dog. And me."
"I'm sorry. I didn't mean to upset you."
She crossed her arms over her chest and stared up at him. "Do you always say exactly what's on your mind these days, Tanner?"
"I never say what's on my mind. You have a strange effect on me."
With the heroine, she's strong, brave, good with kids and I liked how determined she was to help Tanner when it comes to his family. Then again, with a pushy aunt like Tanner has, he needs all the help he can get. While the hero, he's been through a lot in his life and I liked how he's managed to turn his life around and do so well. I also loved that he would do anything for family, even though he doesn't know whether he'll ever be able to be everything his little sister needs him to be. Still, he loves her enough to try. Will Tanner let his sister stay with him? Yet, what I liked most of all about the hero was the close relationships he shares with his siblings and how they band together when they need each other. Really, they're lucky to have such a tight bond, considering their mother wasn't the most considerate person.
Overall, Ms. Newell has delivered a really good read in this book where the chemistry between Tanner and Francie was strong; the romance shows how right these two are together; and the ending had me crying happy tears because of the decision the hero makes when it comes to being with the heroine and doing what's right for one of the people he cares about most. I would recommend Tanner's Promise by Kaylie Newell, if you enjoy the friends to lovers trope or books by authors Erika Marks, Sarah Newberry, Sinclair Jayne and Lynne Marshall.

Book Info:

Publication: August 2nd, 2018 | Tule Publishing | Harlow Brothers #1
Tanner Harlow is a talented landscape designer, quietly building a name and a solid future when he finds himself needing to be the temporary guardian to his eleven-year-old half-sister. Tanner loves her, but can't see himself as a father figure or imagine how he's going to build his business during his busiest season with a child in tow until his newest client—his high school crush who still makes his heart pound—has a proposition that will help them both as long as Tanner can resist the tempting lure of the girl next door.
Elementary school teacher Francie Tate moved back to Marietta to be close to her ailing father. She plans to settle in and fix up her little bungalow before the school year starts, but definitely needs help with the neglected yard. She's shocked when the landscaper she hired turns out to be a class mate. Tanner used to be shy in school, but he isn't the same kid anymore–he's tall, sexy, and has the most striking brown eyes she's ever seen. When Francie learns of Tanner's need for child care, she impulsively offers to watch his half-sister for the summer in return for some landscaping and renovations around the house.
It seems like a win-win, but Francie didn't bargain on falling in love.