Tell No Lies (Quinn & Costa Thriller #2) by Allison Brennan: The FBI has been called in on a murder case in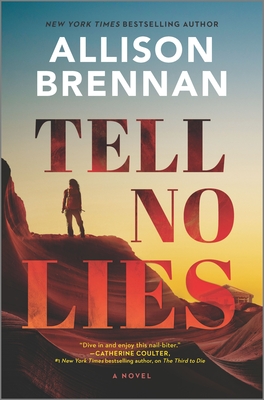 Arizona. College student and environmental activist Emma Perez was murdered while out investigating why she was finding birds dead from what she suspected might be from poisonous contaminants.
Matt Costa is the lead FBI agent on the FBI's newly-formed Mobile Task Force. He was instrumental in its origin as he helped his boss, Tony Greer, brainstorm it into existence. Matt met Kara Quinn when she assisted the task force on their first assignment, the story of that is told in the first book in the series, The Third To Die.
We find out that Kara can't go back to her undercover police role in Los Angeles because she and her partner were publicly exposed which led to the death of her partner and a price on Kara's head. She is a major asset to the task force but admits she doesn't play well with others and hopes to go back to her old job in LA some day.
The task force's job becomes quite complicated as, in addition to the murder of Emma Perez, they need to look into illegal toxic waste dumping, murder and child trafficking. As I turned the pages in this book I found the tension ratcheting up and I couldn't put the book down. The characters are all so realistic and intense.
There's tons of action and suspense to keep readers on the edge of their seat. The ending crescendoes with heart-pounding events and a satisfying conclusion. Allison Brennan has a great treat for thriller readers in Tell No Lies, the second book in her Quinn & Costa Thriller series.
Book Info:

Publication: March 30th 2021 | Mira Books | Quinn & Costa Thriller #2
Something mysterious is killing the wildlife in the mountains just south of Tucson. When a college intern turned activist sets out to collect her own evidence, she, too, ends up dead. Local law enforcement is slow to get involved. That's when the mobile FBI unit goes undercover to infiltrate the town and its copper refinery in search of possible leads.
Quinn and Costa find themselves scouring the desolate landscape, which keeps revealing clues to something much darker—greed, child trafficking and more death. As the body count adds up, it's clear they have stumbled onto much more than they bargained for. Now they must figure out who is at the heart of this mayhem and stop them before more innocent lives are lost.