The Assassin in 5F by Nana Malone: Things are not going smoothly for Lyra, not only does the guy she like work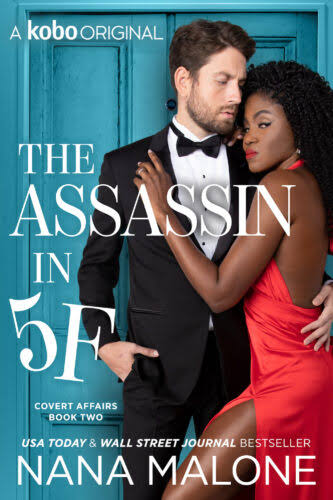 for an opposing agency but she also shot the guy! Desperate to try and explain herself to Marcus and make things right Lyra finds herself in store for a whole new set of challenges! No one likes getting shot least of all by the woman that you are in love with, which is exactly why Marcus is stewing in his own combination of anger and hurt. However can he really be angry with Lyra for lying about herself when he has been doing the exact same thing all this time? With danger fast approaching the pair, Lyra and Marcus need to decide if they can get over this little hiccup and work together to stay safe.
The Assassin In 5F started of with a bang and keeps you on your toes right until the every last chapter! Thank goodness we got the second half of this novel fast, and boy is this a goodie! I loved that this book progressed at such a fast steamy pace. I loved that we pick up right from were the previous book ended and we get to see Lyra and Marcus figure out where to go from this crucial point.
I'm still more team Marcus than I am team Lyra, and this book just made me love Marcus even more. We got to see a more sensitive and caring side to Marcus and just that he is genuinely a nice guy. I absolutely loved that he always tried to keep Lyra safe and even when they fought it was because they cared about each other. The thing I really liked about Lyra was that that was such a girl boss. I loved that she was such a sassy, confident chick that was rocking it in a very male dominated world.
The Assassin In 5F is a steamy suspense filled romance that will have you at the edge of your seat right through the read! I would highly recommend reading the first book in this duet first so that you can fully enjoy and understand the story! Overall this is a definite must read!
Book Info:

Publication: July 13th 2021 | Ratuken Kobo | The Covert Affairs Duet #2
This time, romance isn't the only thing undercover(s).
It's not exactly a traditional date night to get involved in a shootout. Then again, there's nothing traditional about Lyra and Marcus. It was hard enough to hide their undercover work from each other–but discovering that their agencies are sworn enemies? Awkward.
Lyra has never been known for her impulse control, but shooting her boyfriend is definitely an all-time low. Marcus isn't the type of agent to disobey orders, but he can't seem to keep his eyes–or hands–off the infuriating woman he's supposed to forget. Danger is closing in from all sides, forcing them to team up to solve their mutual problem… but the enemy is already closer than either of them know.
From USA Today and Wall Street Journal bestselling author Nana Malone comes the sexy, gripping conclusion to The Covert Affairs duet.