Temporary Wife Temptation by Jayci Lee is a sexy modern marriage of a convenience romance and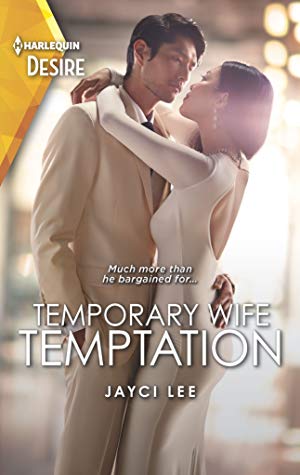 a solid debut by a new author to the genre.
Garrett Song knows what's expected of him by his traditional Korean family – to take over the reins of Hansol, the family's fashion retail dynasty as CEO. To do this, his grandmother has planned an arranged marriage as part of a business deal to merge with Vivotex after which she'll promote him to CEO from his current VP position. But Garrett wants to have some things on his terms, including the woman he marries. Defying his grandmother while still attaining the CEO position could be tricky unless he can find a 'wife' in short order.
Natalie Sobol has worked hard for Hansol and her current position in human resources is good, but there's a possibility of promotion in her department. She worked as interim VP of HR previously, and knows she can do the job. But her sister and husband have recently died in a car accident, leaving her as guardian to her beloved niece Sophie, and the baby's unexpected illness caused her to miss the interview for the VP position. Determined to get another chance, Natalie knows which club Garrett hangs out at and finds him there. Though Garrett doesn't recognize Natalie at first out of her usual work uniform and dressed for a night out, the truth comes out quickly. And with it comes a possible solution to Garrett's problem.
Garrett knows that Natalie can do the VP of human resources job and offers a trade. If she'll agree to a short marriage of convenience he'll make sure Natalie gets the job. Everyone will come out ahead. Garrett will have more control of his own destiny and be able to show his grandmother that he can still make the merger with Vivotex on his own terms. Natalie, fighting a custody battle with her niece's grandparents on her deceased brother-in-law's side can show the court a stable family life to help her adoption plans. But when the attraction between them heats up, will their fake marriage start to feel a little too real?
I liked a lot of things about this romance. The cover is terrific and accurately portrays how I picture the couple. Natalie is Korean American, and not as well versed in traditional Korean culture as Garrett is, but she's interested and willing to learn more about her heritage and she wants to make a good impression on Garrett's grandmother (even if she doesn't agree with her planning an arranged marriage for him). Thwarting grandmother's plans means uncertain consequences for Garrett in terms of his CEO position but he's smart and confident in himself and his abilities. Natalie isn't that comfortable with the fake origins of their relationship (telling everyone they were secretly dating) and hiding that from his grandmother but she's determined to live up to her end of the bargain (and truth be told, when Grandmother realizes she's getting a cute great-granddaughter out of the bargain, she's not all that unhappy). The ethics of their dating relationship is skirted over by making a quick transition to the wedding so that the gossip about it and its impropriety get taken over by best wishes for the marriage.
Garrett is quite stubborn though when it comes to having an actual relationship with Natalie. Despite their mutual attraction he keeps himself at an emotional (and physical) distance for a few weeks after their wedding day, to Natalie's disappointment. She knows Garrett isn't interested in love and tries to keep herself from developing feelings for him even though when they are in public and pretending, it's easy to forget that they're not a real couple. Eventually they give into the attraction and share some sexy scenes but Garrett doesn't want to admit that he's falling for Natalie. There are some plot points thrown in for extra drama that were a bit over the top and made Garrett doubt Natalie's true feelings and intentions. When things come to a head, he has to make up for some mistakes to prove to Natalie that their marriage is worth fighting for. I was glad to see Natalie stand up for herself and not let Garrett off easy. I would have liked to see more development of a relationship between Garrett and his new daughter Sophie – while Sophie's existence is one of the reasons for their marriage so that Natalie could get custody, she sometimes seemed like an afterthought and not integral to the story.
Overall, the story is an interesting and entertaining one, with complex characters who grow over the course of the story and get a well deserved happy ending. The family dynamics and cultural context are well described and I'm looking forward to reading about some of the secondary characters in future books by this author.
Book Info:

Publication: Feb 01, 2020 | Harlequin Desire | The Heirs of Hansol #1
Much more than he bargained for…
"You want me to find you a wife?"
"No. I want you to be my wife."
Garrett Song is this close to taking the reins of his family's LA fashion empire…until the Song matriarch insists he marry her handpicked bride first. To block her matchmaking, he recruits Natalie Sobol to pose as his wife. She needs a fake spouse as badly as he does. But when passion burns down their chaste agreement, the flames could destroy them all…