Hero's Haven by Rebecca Zanetti: Vampire Quade Kayrs has been trapped alone in another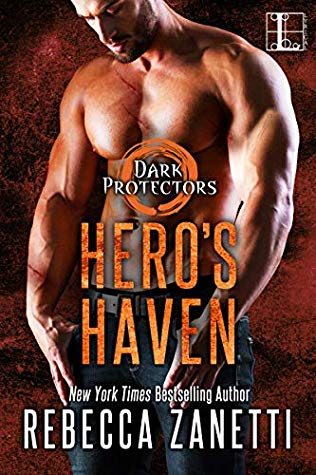 dimension for centuries, keeping Ulric imprisoned to keep the world safe. He's been seeing a woman visit him, but he believes it's a delusion, until he finally realizes she's real.
Haven originally thinks that Quade is all in her mind, a result of the mental illness she was told she had. When she rescues Quade from the dimension that's about to implode and brings him back to his brother and the rest of The Seven, she realizes she isn't crazy. In fact, she learns her entire life was a lie. Now Quade and Haven both have to learn to navigate in a world that is completely foreign to them.
Quade quickly adapts to things that have changed in the centuries he had been in the other dimension, except for the fact that toothpaste is used to brush his teeth, not to eat. His love of eating the toothpaste, and Haven's scolding him for it, kept me laughing. Even Hope, a young vampire/prophet, tries to get him to eat mint ice cream instead.
ope grinned at Quade. "There's mint-chip ice cream in the kitchen. I'm thinkin' you'd like it."
Quade blinked. "Like toothpaste?"
"Better," Hope whispered.
Quade comes across as extremely overprotective of Haven, but Haven is not afraid to put him in his place. She refuses to be treated like she can't make her own decisions or that she can't protect herself. She had been doing it for years and wasn't about to let Quade take that away from her.
As the series progresses, The Seven have more interactions with other members of the Kayrs family in the Realm. I enjoyed seeing them all interact and how the younger Kayrs family members look out for the older ones, even if they don't care for The Seven and the separate worlds they created.
Readers get more of a glimpse of Ulric. He seems to be creating a rift between Hope and Drake. Hope believes The Seven's claim that he's bad, but Drake views him as the spiritual leader for the Kurjans and believes The Seven are wrong about him. I'm looking forward to seeing how it plays out and affects their relationship.
This is the eleventh book in the series. I would recommend, if you haven't already, starting with Vampire's Faith, which is book eight in the series. That is when The Seven are first introduced and explains the concept of The Seven and creating the alternate worlds. The Ulric storyline has been on-going since Vampire's Faith and readers may feel a little lost without having the background from the previous books.
While I've enjoyed all the books in this part of the series so far, Hero's Haven has become one of my favorites. Rebecca Zanetti has created an incredible paranormal world filled with suspense, romance, and humor that will keep readers wanting more.
Book Info:

Publication: January 21, 2020 | Lyrical Press | Dark Protectors #11
After years of struggling, Haven Daly has finally accepted that she's nuttier than a fruitcake. Why else would she see visions of a beautiful but tormented male every night . . . and actually believe she can talk to him, even feel his touch? But thanks to those dream journeys, she can paint images nobody else on earth can duplicate. In each brush stroke, she captures the blatant masculinity and raw desire in his eyes that promise he's coming for her…and soon.
Quade Kayrs has already suffered a lifetime of pain and torture. Completely isolated, he kept his sanity thanks to one beautiful female, a vision with kind emerald eyes. In the end, her soft voice led him out of hell. Now, naked and alone, he's in a strange world that bears little resemblance to the one he left behind. All he knows is Haven. All he wants is Haven. His final mission? To protect her from the evil hunting them both—whether she likes it or not . . .