In Gold Coast Angels: A Doctor's Redemption by Marion Lennox, Dr. Sam Webster has been living alone with his dog Blondie since the death of his fiance, Emily. This changes when he meets Zoe, a new nurse at Gold Coast City Hospital when she saves his dog Blondie from an unfortunate accident. Their first meeting soon leads to surfing lessons and with each passing lesson, their feelings for each other go stronger. Can a girl who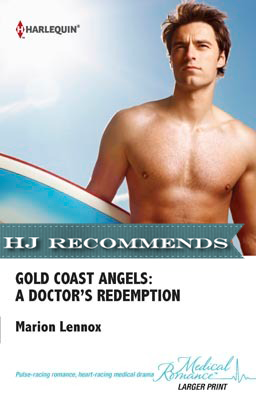 believes in living her life to the fullest convince Sam to open his heart again and follow her lead to find true happiness..??
What was it with this girl? Sam thought numbly. What was it that made
his heart clench?
He didn't want this feeling. He didn't want to feel like he wanted to walk
forward, crouch down and hug the pair of them.
How could he stop wanting?
'How long does it take to learn to surf?' Zoe was asking Bonnie now.
'How long does it take before I'll be brave enough to catch one of those
gorgeous, curling waves that loop right over? I want that so much.'
She wanted the big waves—and that was enough to make things right
themselves. Any thought of hugging went right out the window. This woman
wanted what had killed Emily.
Marion Lennox is an awesome storyteller and she again proves herself with a super start to the Gold Coast Angels series by A Doctor's Redemption. Sam Webster and Zoe were both very likable characters because they both were a little flawed. They both had their set of problems to deal with and it made them more real. The medical aspects were also present in the right amount with the romance, which made it a perfect medical romance.
I just found the first face to face meeting of the main characters a little too dramatic but other than that little detail, the whole story was quite enjoyable because of the characters and the writing.T he steam meter was quite low for this one and if you are looking for high level of physical intimacy then you may be disappointed.
Overall, A Doctor's Redemption by Marion Lennox is a fast paced, well written and sweet romance with likable characters. The steam factor might be low but I enjoyed this one because of a good storyline which left me happy in the end.
Book Info:

HJ Recommends
Published October 2013 by Harlequin Medical Romances   | Series: Gold Coast Angels
Tempting the lone doc
Sam Webster lives for three things: his little heart patients, his dog and surfing. Out on the waves this gorgeous lone wolf can find the solace he craves.
When a bubbly new nurse spots him on the beach and begs him to teach her to surf, his first reaction is a big fat no! But Zoe's lust for life is infectious and tempting—she has learned to grab each moment. Can she show Sam that life is worth living if he'll take the biggest risk of all with her?