Temptation's Darling by Johanna Lindsey is a fun, light romance that was written by an author that has been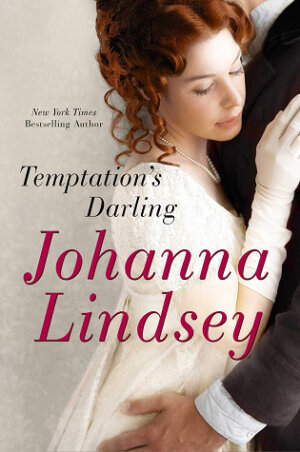 writing romance stories for years. I haven't read any of her recent work and this book was just as wonderful as I'd expect from the author.
When the Earl of Ketterham (William) is exiled from England and goes to Scotland, his daughter Vanessa sneaks away with him. William allows Vanessa to stay with him but when she gets older, he made her return to her mother in England for a Season. Vanessa wasn't happy to leave her father and the freedom she had in Scotland. She decides that once she reaches England she will try and convince the Rathban family into allowing her father to return.
Lord Montgomery "Monty" was bored after returning from the war, so he finds entertainment in "fixing" problems for the Prince Regent that earn him a reputation as a rake. When things become uncomfortable for Monty in London, the Prince Regent sends him to a remote location with a "package." The package turns out to be Charley, a side character who provides so much humor and intrigue to the story.
There were several other side characters that added to the story. Vanessa tries to "court" Daniel Rathban in order to marry him, which will allow her father to come home. Daniel is a cynical man due to his father's past interventions and he isn't willing to go along with the idea of marriage. Monty is a busy hero in the book, guarding Charlie, protecting himself from upset husbands, and trying to get Vanessa to marry him.
The story is full of witty banter, drama, action, mystery, humor, and unexpected twists. The ending was very interesting and I hope it will lead into another book. I would love to see Vanessa's sisters and Daniel get their HEA.
Book Info:

Publication: July 16th 2019 | Gallery Books |
Threatened by powerful enemies, William Blackburn, Earl of Ketterham, lives in exile in the Scottish Highlands with his daughter, Vanessa. When she comes of age, William urges her to return to her mother in England to make her debut. Raised with all the advantages and freedom a boy would have, Vanessa doubts she can fit into the mold of a proper young lady. Still, she agrees to re-enter fashionable society, determined to end the vendetta against her father, never imagining the high price she will have to pay.
Lord Montgomery Townsend enjoys living on the edge, courting danger as he fixes potentially scandalous problems for the Prince Regent. While hiding out at the home of the Countess of Ketterham, Monty watches a disaster-in-the-making as his hostess tries to prepare her estranged daughter for a match with the pompous son of a powerful family. Puzzled as to why independent-minded Vanessa submits to being turned into a puppet and wants to marry the arrogant rogue, Monty nonetheless steps in to make her dreams come true. But no good deed goes unpunished, and soon he faces more pressing problems, including the temptation to upend Vanessa's wedding plans so he can marry her himself!