Tempted by the Billionaire Next Door by Therese Beharrie: Some people try very hard to do the right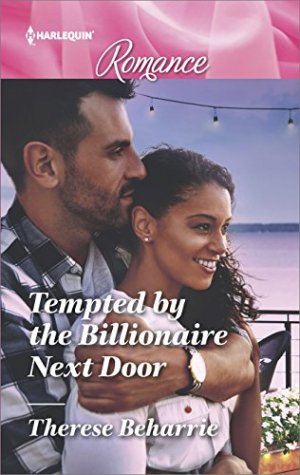 thing and be the right one, for all the wrong reasons. Some people just don't understand that who they are is more than enough.
For Jessica Steyn she couldn't believe in herself. She was never going to be good enough or really enough period. She could, however, do everything she could to make those around her happy. She was determined that she would do that and somehow someway that would be enough.
Dylan Nel didn't understand. He just couldn't figure out why he hadn't been enough, why his sister and his mother hadn't been enough. Usually it was the women who had daddy issues but Dylan knew he had some major ones, as well as abandonment issues.
Two people with some major issues and very different ways of handling them find themselves with one person in common and, without knowing or understanding, a very similar past. Will the future hold them together or will secrets tear them apart?
This was an odd read. Ms. Beharrie has given her readers and interesting plot, but puzzling none the less. The story focuses on the evolution of Jessica and Dylan as individuals, but not really in great detail. It also doesn't do a lot of focusing or explaining of the relationship that they have with one another. It wasn't a bad read. It was pleasant but a little disjointed and the ending seemed forced. This is not one that is a must read, but it is a pleasant read.

Book Info:

Publication: May 8th 2018 | Harlequin Romance |
He's the one man who's off-limits…
But could he be her Mr. Right?
When Jessica Steyn learns her delicious new neighbor is actually her best friend's brother, billionaire bad boy Dylan Nel, she's torn. After all, she's just become his sister's surrogate! Acting on their attraction would complicate things, but they're soon growing closer. Overcoming Dylan's troubled family history—and Jessica's pregnancy—seems impossible, but could the answer to their heartaches be just next door?