The Pecker Briefs by Sawyer Bennett: Ford very much enjoys his life as is. He loves being a lawyer and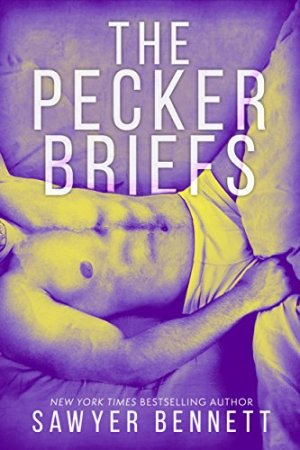 enjoys the lifestyle that affords him. He's smart, sexy, charming, generous, and determined to have no more than short-term relationships. Ford doesn't see marriage, kids, or pets in his future.
Viveka is a passionate advocate for animal rights and she loves specializing in that type of legal practice. She loves that her office is next door to that of her BFF even though they don't work in the greatest part of town. She's fiery, independent, intelligent, and happily divorced.
Ford and Viveka met under unusual circumstances. Both feel an immediate attraction despite the fact that they will be legally representing opposing sides in a lawsuit over the habitat of endangered woodpeckers. They enjoy challenging each other in and out of the courtroom.
<<<quote>>>
"Regardless of winning and losing, do you want to go out to dinner tonight?"
"Are you asking me out on a date?" I ask.
"Yup."
"Then I'm in."
<<<quote>>>
Getting involved in any way is a terrible idea, but they can't resist indulging in a one-night stand which quickly turns into an affair. They vow to keep their case separate from their increasingly close personal relationship. Viv is different in just about every way from the women Ford usually dates and she keeps him on his toes.
<<<quote>>>
"Is this your brazen way of trying to get me out on the dance floor?" I tease as I start to automatically slide out of the booth.
She grins and accepts my hand as she follows me out. "I'll only dance with you if you're any good. I don't want you to embarrass me."
I laugh as I pull her toward the dance floor. "It's kind of hard to screw up a slow dance, Viv."
<<<quote>>>
The Pecker Briefs is fun and entertaining with plenty of heat. Sawyer Bennett delivers another engaging story with banter and strong friendships in this series. Ms. Bennett developed a cast of characters you would love to meet. The Pecker Briefs can be read as a standalone in the Legal Affairs series. Fans of Helena Hunting and Christina Lauren will enjoy The Pecker Briefs.

Book Info:

Publication: Published April 17th 2018 | Big Dog Books, LLC | Legal Affairs #7
I never thought a pecker would get me in so much trouble.
I mean, sure… if you're talking about a certain anatomical feature of mine that the ladies just love. Given my bachelor status and appreciation for all things curvy and feminine, I could absolutely see that. But a different pecker is making my life much harder than it needs to be.
My name is Ford Daniels, partner at the law firm of Knight & Payne, and my latest case has me wading through the finer points of peckers—woodpeckers that is. Specifically, the red-cockaded woodpecker. I swear, I can't make this stuff up but that's what the sexy-as-hell blonde chained to a tree told me this morning.
Her name is Viveka Jones and she is so much more than a pretty face. She's got wit, charm, and razor-sharp smarts. Turns out my client is looking to bulldoze the red-cockaded woodpecker's natural habitat in favor of a multimillion-dollar subdivision and the sexy attorney with legs for days (and days), just happens to be counsel for an animal rights group looking to put a halt to construction.
My client's pissed, but all I can think about is getting Viveka across the table from me. And then on the table underneath me. Perhaps up against the wall. And then—
Well, let's just say when it's all said and done, I'm hoping the red-cockaded woodpecker isn't the only pecker that gets some attention from Miss Viveka Jones.