In Tempted by the Brooding Surgeon by Robin Gianna, when Annabelle Richards discovers she'll be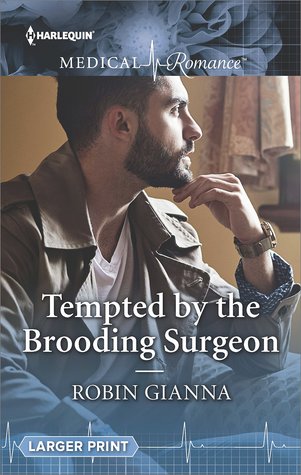 working with renowned surgeon Daniel Perrera soon after she arrives in Peru, she isn't happy about it, especially after what he did that almost cost her career when they last worked together. However, she isn't about to let the fact that they'll be working together get to her. Instead, she'll do her job, do it well and stay out of his way. Yet, staying far away from him seems impossible, even though Annabelle knows Daniel is all wrong for her. Will Daniel be able to win Annabelle over or will their chance at happy ever after never happen?
"You have me all wrong." Inexplicably, her words stung, even as he felt confused as to why she was saying some of it. "I don't judge people. Didn't we just have a conversation about how much I care about the have-nots who live here? As for my medical teams, I demand the best for my patients. That was the only thing on my mind five years ago, since that's clearly what you're talking about."
"I want the best for my patients, too. Except I don't throw other people under the bus, even when they make a mistake or could do something better. I give them a second chance, and try to help them along the way."
This is an absolutely brilliant enemy to lovers trope encompassing story that captivated my undivided attention immediately with the opening line and kept me entertained from start to finish. Everything about it — the incredible main characters, the compelling dialogue and the fast-paced plot – made this story a total page turner and had me wanting to know more about the hero and heroine's back stories, as they have quite the history because of something the hero did to the heroine. Will the heroine ever forgive the hero for what he did? Will Daniel realize that maybe he was wrong to do what he did to the heroine?
As for the main characters, I absolutely loved both of them, as they both have things in their pasts that make them the resilient and hard-working medical professionals they are. The hero's loss makes him determined to do everything he can to save patients while the heroine has overcome her tough background to do amazing things to help others. Will the hero ever be able to respect the heroine and realize that people aren't perfect? She's human and humans make mistakes. Moreover, the heroine is feisty, courageous and I liked how dedicated she was to her work and everything she's trying to do for underprivileged kids. While the hero, he comes from a wealthy family, but chose to go a different avenue than the family business, which I could understand because of his condition and what happened to his twin brother. Also, I couldn't help but sympathize with him because of what he goes through in this story due to his medical condition, which is scary and brings back painful memories of what happened to his brother.
"I don't think I've mentioned how beautiful you look in a dress. I nearly ran off the road driving here, looking at your bare legs and soft skin."
"And I don't think I mentioned how handsome you look in a button-down shirt and dress pants that fit your rear really, really well," she breathed. "Though I admit you do for scrubs what not many other men can do."
Overall, Ms. Gianna has delivered a splendid read in this book where emotions run high; the chemistry between this couple was powerful; the romance was nicely-detailed and had me hoping for the best for this couple, as they had some tough obstacles to overcome to be together; the medical emergencies these two handled were intense; the secondary characters were just as entertaining as the main ones, especially Jen, the heroine's friend (who I hope gets a story of her own); and the ending had me loving the hero's determination to win over the heroine, especially when there are no guarantees in life and being with someone he loves is better than being alone. I would recommend Tempted by the Brooding Surgeon by Robin Gianna, if you enjoy medical romances, the enemy to lovers trope, or books by authors Amy Ruttan, Fiona Lowe, Lucy Ryder and Charlotte Hawkes.
Book Info:

Publication: April 17th, 2018 | Harlequin Medical |
The one man who won't let her in……is the only man she wants!
Annabelle Richards arrives in Peru to find she'll be working with renowned surgeon Daniel Ferrera–the man who almost ruined her career! She's worked too hard to let him get in her way again. But when Annabelle learns that Daniel's brooding exterior hides a wealth of pain, an unexpected passion ignites between them. Will temptation prove too much to resist?