In Caught Up in a Cowboy (Cowboys of Creedence #1)  by Jennie Marts, years ago Rockford 'Rock'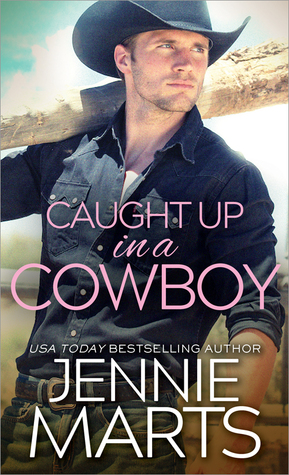 James broke his high school sweetheart's heart. Determined to show Rock she wasn't affected by his leaving, she did something reckless resulting in the best thing that's ever come into her life – her son. Yet, now years later, Rock is back in town after an injury sidelines him from the game he loves and is determined to make things right with Quinn, the woman he's missed so much. Will Rock be able to make things right with Quinn or will their second chance at happy ever after never happen?
Ms. Marts is a wonderful author that always manages to capture my attention from the very beginning of one of her stories and get so swept up in the story that I'm amazed at how quickly I get to the end. The way this story started had me loving the hero immediately, even though I couldn't help but sympathize with him because of what happened to him. However, it was from the moment the hero and heroine come face-to-face for the first time where this story really gets interesting because of the heroine's reaction. Will she ever be able to forgive Rock for leaving her? Yet, in saying that, I liked how the heroine uses the hero's return to her advantage.
Nice work, matey," she said, trying to mimic his accent as she held the door for him. "You think you can keep it up long enough to entertain a dozen hyper eight-year-olds?"
"Aye. I love a challenge." He crossed the room, stopping behind her and lowering his voice as he leaned closer to her ear. "And might I add, ye've got the finest pirate booty I've ever laid eyes on."
She raised an eyebrow, trying to hold in a laugh. "Are you seriously flirting with me using pirate lingo?"
He winked and gave her a sharp nod of his head. "Aye, me beauty. Would you like to shiver me timbers?"
As for the dialogue, it was an enthralling combination of intense moments, playful banter and displays a great depth of emotion because the heroine goes through a lot in this story due to her son's father and the hero believing he's doing the right thing by Quinn and her son in the decisions he makes. Really, I felt sorry for Quinn, especially in the moment where something happens that could turn her life upside down. Luckily though, the heroine is strong, brave, a fighter and I liked that she gave the hero another chance, even though she knows he could hurt her all over again. I also liked the tight bond she shared with her family, as she would do anything for her son, her brother and her father and vice versa, which is proven in the moment when the heroine has a tough battle to fight.
"Man, being here brings back memories. That felt just like when we were teenagers, and your dad caught me trying to kiss you and ran me out of the house."
"Were you trying to kiss me?" She tilted her head, amazed at her own boldness.
He offered her a flirty grin. "Then or now?"
"Now."
"Yeah, I guess. I was hoping to get around to it anyway. A smile tugged at the corners of her lips. How could this guy always charm a grin out of her. "But you already agreed to go out to dinner with me, so I don't want to push my luck."
While the hero, I absolutely loved him. He's a hockey-playing cowboy full of confidence and charm and I enjoyed how determined he was to win the heroine over because he's missed her so much. I also liked how willing he was to do anything the heroine asked of him, which is proven by what he does for her at the start of this story because she needs his help. Then there's the fact that he's altruistic because of his own past and how he wants the best for the heroine's son. Is the father of Quinn's child being in the kid's life best for the kid? Yet, what I liked most of all about the hero is the tight bond he has with his family and that they are so good to Quinn, despite how things ended between her and Rock that could just as easily make the heroine want to stay away from his family.
Overall, Ms. Mart has penned a very entertaining read in this book where the chemistry between this couple was there from the moment they came face-to-face for the first time and just kept getting stronger the more they interacted; the romance was full of exquisite heat and passion and does justice to this couple's wonderful chemistry; and the ending had me loving the lengths the hero goes to in order to help the heroine and then his determination to win her back. No way can he give up his second chance with her. I would recommend Caught Up in a Cowboy by Jennie Marts, if you enjoy second chance romances or books by authors Lia Riley, Donna Grant, Lori Wilde and Soraya Lane.
Book Info:

Publication: May 1st, 2018 | Sourcebooks Casablanca | Cowboys of Creedence #1
This cowboy plays to win
Rockford James was raised as a tried and true cowboy in a town crazy about ice hockey. Rock is as hot on the ice as he is on a horse, and the NHL snapped him up. Now, injuries have permanently benched him. Body and pride wounded, he returns to his hometown ranch to find that a lot has changed. The one thing that hasn't? His feelings for high school sweetheart and girl-next-door Quinn Rivers.
Quinn had no choice but to get over Rock after he left. Teenaged and heartbroken, she had a rebound one night stand that ended in single motherhood. Now that Rock's back–and clamoring for a second chance–Quinn will do anything to avoid getting caught up in this oh-so-tempting cowboy…