In Tempting a Devil by Samantha Kane, Harriet Mercer must find a man to ruin her reputation if she is to keep her freedom and independence as a widow with complete control of her now deceased husband's money until her son turns of age. But she must hurry or she will be forced to marry Faircloth against her will.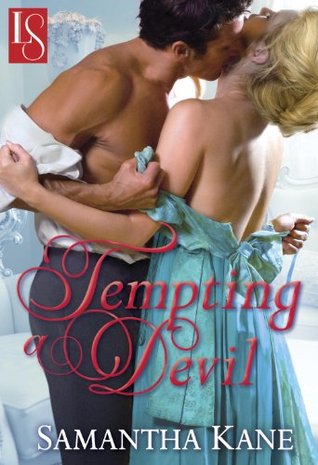 While out escaping the party, Roger Templeton hears a woman in the garden arguing with a man to lay his hands off her. But he knows that the people that venture there go there for a specific reason and if she went there to begin with then she can figure it out. He just wishes that he could've found a woman to take to the garden himself, but none caught his attention. When he hears a scuffle coming from where the couple are he knows that he must come to her assistance. To his surprise the fight seemed pretty evenly matched and didn't want to get involved, until she told him to not just stand there but to help her get the man off her.
Harriet tried to ruin herself with the man, but his touch repulsed her and she no longer wanted anything to do with him. When another man showed up she was grateful for his assistance. But she felt an attraction to this new man and maybe he could be whom she needs to get rid of Faircloth.
When Harriet first starts to flirt with Roger something about her seems familiar to him. And he insist on finding out who she is before he lets things get any further. To his surprise, the woman who has been able to attract his attention like no other has turns out to be his childhood friend Harry. She used to follow him around when they were children and they had a good relationship until he left for school and never returned.
Now Roger must find out what happened in Harriet's life in all this time, for no matter how much he wants to take her to bed and ruin her as she wants, he could not forgive himself if he used her like all others before. But Harriet will not give up easily and she will pursue Roger until he gives in to the inevitable.
Harriet embarks on an adventure filled with lies, blackmail and threats as she learns what true love, partnership and sexual relations are really about with the help and protection of Roger.
For a fun and entertainingly hot and a heroine very determined on running her reputation with a Devil, don't miss Tempting a Devil by Samantha Kane.
Book Info:

 July 8th 2013 by Random House Digital, Inc.
In Samantha Kane's erotic tale of secrets and temptation, a woman whose only defense is seduction targets a rake who teaches her the true meaning of love.
As wealthy and beautiful as she is desperate, Harriet Mercer can have any man she wants—which makes picking the worst of the lot quite easy. By convincing the ton she is a ruined woman, Harry hopes to outwit the greedy, conniving cad blackmailing her into a loveless marriage. Roger Templeton is a rogue with a scandalous reputation, no expectations, and no shame. He is perfect for Harry's fall from grace. Her brazen attempts at a very public seduction are delightful fodder for gossip . . . and pure torment for Roger.
With his pockets as empty as his heart, Roger is in no mood for games and decides to show Harry how foolish it is to tempt a devil. But behind her mesmerizing golden eyes, he sees something unexpected: a woman in trouble. Her scandalous behavior would be amusing if he wasn't captivated by her lush, curvaceous beauty. Worse, every libertine bone in his body has turned traitorously noble. Only a rake would seduce her. But only a gentleman in love can save her.