InA Date with the Ice Princess by Kate Hardy Abigail Smith decides to shake off her "ice princess" tag by going out on a date with the highest bidder for her hospital's charity auction. While she expects nobody to bid for her, the hospital's bad-boy bachelor,Dr.Lewis Gallagher proves her wrong by winning a date with her.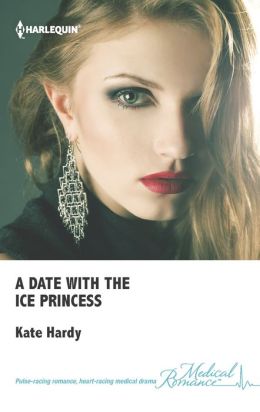 Lewis is determined to make Abby lose all her inhibitions but with Abby determined to keep Lewis away, will he succeed..?
This was Lewis Gallagher. In the white shirt and formal
trousers he wore with a white coat at work, he looked
professional and she could see him as just another
colleague. In faded jeans and a black T-shirt, he looked
younger. Approachable. Touchable.
How had she ever thought she could handle this?
"Come in," she mumbled awkwardly.
She put the flowers in water, then buried her nose in them and breathed in
the scent again. "These are glorious."
"I'm glad you like them," he said.
"I wasn't expecting you to bring me flowers."
"I believe it's official first-date behavior."
First of three, according to the grapevine. "So today you're on your best
behavior, next time you're going to be a bad boy and after the third date you
dump me?" She shook her head. "No, thanks. I'll pass."
"That's a bit unfair. You don't know me."
True, but she wasn't going to let him guilt-trip her into agreeing to anything.
"I know your reputation."
"Don't believe everything you hear." He held her gaze. "Just as I don't
believe everything I hear about you, princess."
The ice princess. Touché. "So why did you place that bid?"
"Because," he said, "you intrigue me."
A Date with the Ice Princess is a good medical romance with Abby and Lewis having a smooth and easy love story for the major part of the book. It was a true medical romance as it combined both medicine and romance in good measures. Abby was shy,reserved and had problem trusting people because she was afraid of people using her to get close to her famous rockstar father. Lewis was an adrenaline junkie,extrovert with a commitment phobia.
Both the characters were good and well written with each having a past which defiened its present. The story was very predictable and I wanted some amount of conflict or tension between the characters but it was very smooth and whatever road bumps it had was towards the end and I could see that coming quite easily.
Overall A Date with the Ice Princess is a well written story with good characters but nothing extraordinary and as compared to the author's previous works, this one fell short.
Book Info:

Publisher: Harlequin Medical Romances (July 1, 2013)
Bought by a delectable doctor—he's about to awaken all her senses!
Daughter of a rock star, shy registrar Abigail Smith always tries to stay out of the spotlight. But it's gained her the reputation of the hospital's "ice princess," something she's determined to shake off. That's why she's on stage being sold to the highest bidder for her hospital's charity auction!
Expecting no one to bid for a date with her, Abby is amazed to be bought by the hospital's bad-boy bachelor, Dr. Lewis Gallagher. And he's made it his personal mission to relieve Abby of all her inhibitions!