Ten Good Reasons (Sandy Cove #2) by Lauren Christopher: Lia is a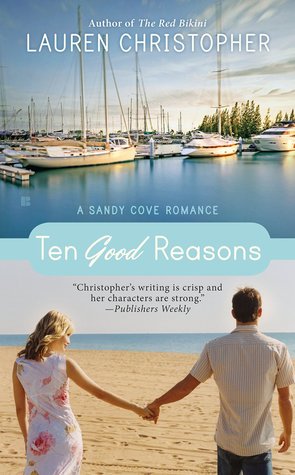 workaholic who defines success in terms of money and position. She's determined to be independent and never depend on a man. On the other hand, she devotes a lot of her time to develop marketing strategies for friends' and neighbors' businesses…for free. Since taking this job, Lia has skipped many family events and spent less time with friends. Now Lia is on the verge of her dream promotion as long as the whale watching charter she booked impresses their most important client.
Drew owns and captains the charter that Lia booked. He's under a lot of pressure to pull off the charters for both of them. Right before the charters begin for the season, Drew is in a motorcycle accident and is unable to captain the tours. In a last ditch effort to save Drew's business and her shot at Paris, she begs Drew's brother Evan to step in. Evan has spent the last two years running from the guilt and pain of his past. Evan and Drew have a contentious and tenuous relationship, but helping Drew's business is one thing Evan can do to try to make up for the past.
Evan is rough around the edges and he doesn't believe that he has the right to be happy or the ability to make someone else happy. Evan has no plans to stay in Sandy Cove; he's simply waiting for his own boat to be fixed before sailing away again. Surprisingly enough, Evan and Lia find a way to work together and impress their clients. Her optimism and trust in people lead Evan to nickname her "Cinderella."
"You called me by my real name," she marveled.
"That's because I'm pissed."
"So you're going to use my real name whenever you're yelling at me?"
"I suppose so."
"I think I like it."
As they spend more time together, they find it more difficult to ignore the attraction between them. Evan isn't the type of guy Lia usually dates and Lia is the first woman to really capture Evan's attention in years. Neither are really in a place for a serious, committed relationship, so they decide to embark on a mutually satisfying fling. They quickly find more than either bargained for, especially once Drew finds a replacement captain and discovers their affair.
"You can give me really, really great sex?"
"I could do my best."
"I don't want to be let down."
"I'll try."
"I want it to be like on TV."
Ten Good Reasons is an opposites-attract love story when falling in love also means reassessing your life and priorities. Lauren Christopher provided a heartbreaking history for Drew and Evan. Ms. Christopher created a good balance of romance, humor, and conflict with interesting secondary characters. Fans of Jessica Lemmon would enjoy Ten Good Reasons!

Book Info:

Published April 7th 2015 by Berkley | Sandy Cove #2
In the latest Sandy Cove romance from the author of The Red Bikini, ten good reasons aren't enough to keep Lia and Evan apart…
With a crazy eighty-hour-a-week job, an almost-boyfriend who's left her for Bora Bora, and way too many terrible bridesmaid dresses in her future, Lia McCabe needs a change of pace before the imminent crush of the big 3-0.
First up, Lia is determined to help make sure her friend Drew's whale-watching business takes off. But when an accident leaves him unable to man the boat, Lia's only option is to convince Drew's brooding, sexy brother to captain the ship (and save her butt).
For the last two years, Evan Betancourt has been sailing around the world to avoid the ghosts of his past. But when he pulls into Sandy Cove for a brief stop, Lia makes him an offer she won't let him refuse.
And as these two opposites figure out how to work together, the murky waters between denial and attraction are creeping up fast…