The 24 Hour Dating Agency by Mary Jayne Baker: When three friends are sick of being single, they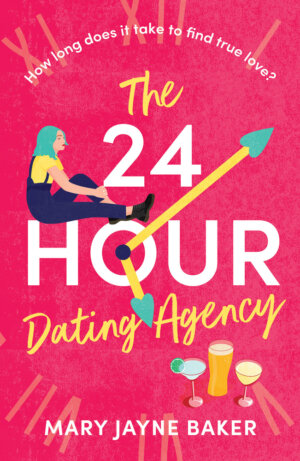 come across an ad for the 24-Hour Dating Agency. Based on information they perceive during a meeting and answers to a personality test, the agency says that they can find your soulmate, who they will set up a 24-hour-long date for the two of you. If it doesn't work out, you can get your money back. At first, Tamara, Milo, and Saffie are apprehensive, but they decide to sign up anyways.
Tamara has been single since the father of her children walked out after her surprise pregnancy. When she hears from him again that he is engaged and the new much-younger wife is expecting another baby, she immediately doesn't want to let her children near. She only decides to sign up for the agency when a store assumes that she is the grandmother of her daughter (in front of her ex-husband and his new fiancée of course), and she is surprised by the man chosen for her. Even though first impressions of the man are not good (he's a ventriloquist), she finds that she enjoys talking with him. He was also willing to go with the flow when her young daughter had to come on the date with her. Can she look past the immediate response to find out why the agency picked him for her?
Milo has dated a lot of stinkers, but he doesn't think he deserves any better than what he's been finding. When he decides to try speed dating, he finds that he has already hooked up with half of the men he met and felt nothing for the other half. He signs up for the agency, because he feels like he has exhausted all of his options. Much to his chagrin, he is matched with someone he has already met… and ditched upon finding out he had seven chihuahuas. Can he see past his prior decisions and help the other guy to as well to find out if they are indeed a perfect match?
Saffie signs up for the agency solely to help Milo and to possibly write a piece for their newspaper. She even goes so far as to give a fake name when completing everything. When she meets her match, she ends up wishing that she had never lied about her name or occupation and instead told him the truth. When she is ghosted by him, she thinks that she did something wrong until an article comes out describing their date in detail. As she questions everything that he told her and she told him, she questions if there is any chance that the feelings she had were real.
I can't even go into detail about how the characters changed or it will literally give away all the twists and turns that made the book amazing. Overall, I can say that I didn't see the different things happening that did, which normally doesn't happen with romance novels. Each of the main three have to put aside their feelings about relationships to decide what they want from love and who they want to be with.
The book as a whole was AMAZING. I'm not sure what I was expecting from the blurb, but it exceeded all expectations. The three stories are woven together with such finesse and you want happiness for all of them. The way that the characters deal with the conflict in their lives is at some time heartbreaking but also mesmerizing. They all have different ways to cope with their frustrations and the way they lean on each other is so healthy. I can't say enough good things about this book and think that it is definitely a must-read for summer.
Book Info:

Publication: June 30, 2022 | Aria |
Tinder, Hinge, Bumble – thirtysomething journalist Saffie has tried them all. Now she's wondering whether it's time to throw in the towel and give up on love for good – and she's not alone…
Saffie's boss Tamara has been single since her divorce four years ago, but at forty-five, running her own magazine and with three kids at home, she doesn't feel she has the time, energy or confidence to go through the dating mill again. Meanwhile, Saffie's best friend Milo has just been dumped – again. A hopeless romantic with terrible taste in men, this is his fourth break-up in six months. There must be a secret to finding Mr Right, surely – but what?
Step forward The 24-hour Dating Agency, a matchmaking service with a difference. Instead of wasting months on casual dates, they promise to send you on an intense twenty-four-hour date with your perfect match – like speed-dating but in reverse. And even better, the agency offers a soulmate guarantee: meet The One or your money back.
Figuring they have nothing to lose, the three friends sign up. But when their matches turn out to be not what they were expecting, it seems like even the soulmate-guarantee can't find them what they're looking for. Or can it?