The Heirs His Housekeeper Carried by Lynne Graham is the second instalment of The Stefano's Legacy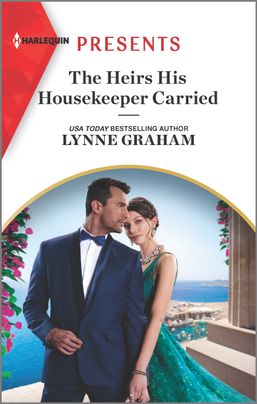 mini-series.
How "gazillionaire" Gio finds a beautifully audacious mermaid called Leah in his pool, you'll have to read the book yourself, but what a brilliant opening! Setting the scene for a marriage of convenience story which is an escapade into a luxurious world while laced with wit and quips that had me smiling the whole way.
After discovering her night with Gio is a lie, Leah runs but the consequences of the night fling her back in Gio's world. Feeling she's done the right thing by letting this stern and unforgiving version of Gio know, Leah is at peace with the thought of possibly raising a baby alone. More shocks are on their way when Leah is not only given a large inheritance but she also meets her half brother for the first time. Ari and Cleo from book 1 feature and with the clever writing of Lynne Graham, it's not necessary to read book 1 to catch up (but I highly recommend it).
Frustrated with himself for always getting it wrong with Leah and wishing she came with an operating manual that Gio could read and comprehend makes for a fun read. A strong and stubborn man who is shaped by his history; Leah brings out the worst in him and it takes some time to realise why.
Easy to read, fast paced and light hearted with very likeable characters. I really enjoyed The Heirs His Housekeeper Carried. I was smiling all the way through. I also enjoyed the battle of the alphas. Topped off with a gorgeous cover and a rascally lil doggo, I would recommend to anyone who loves the Presents world without the angst.
Book Info:

Publication: June 2022 | Harlequin Presents | The Stefanos Legacy #2
Orphaned Leah has never had it easy in life. Desperate for a job, she agrees to become ruthless Giovanni Zanetti's housekeeper and finally gain some security. What she never expected was that being between his billion-dollar sheets would be so undeniably tempting…
Gio's night with the totally off-limits innocent was a strictly one-time indiscretion. Anything more than that would require a level of trust he no longer has to give. Then Leah returns with a revelation that rocks the Italian's carefully constructed world: she's pregnant!
Read all The Stefanos Legacy books:
Book 1: Promoted to the Greek's Wife
Book 2: The Heirs His Housekeeper Carried