In The American Roommate Experiment by Elena Armas, After self-publishing a romance novel that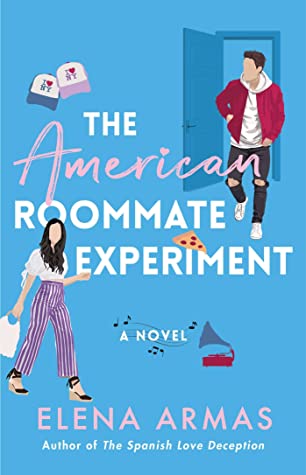 became a smash hit and then being offered an actual book deal, Rosie Graham left her engineering career behind her. The one thing she didn't foresee was her muse, writing mojo, inspiration–whatever you want to call it–disappearing. Completely. Now under a deadline and with nothing but a blank screen in front of her, Rosie didn't also need her apartment ceiling to collapse, leaving her stranded with nowhere to live or work for the time being. Then she remembers her bestie Lina is on her honeymoon. Which leaves her studio apartment free. Problem solved. Or so Rosie thought, until Lina's gorgeous cousin from Spain, Lucas Martín, shows up unannounced.
'I thought about how he always gave away his smiles so selflessly. About how much he had given me in the short amount of time we'd known each other. And as I held him, I couldn't help but wonder if someone had ever done the same for him.'
Little does her new temporary roomie, Lucas, know that Rosie has already heard all about him from Lina. And that she's been dying to meet him. But she didn't think it would happen at one of the lowest points in her life and at a time when complicated seems to be the status quo. On the plus side, Lucas doles out hugs that could cure anyone's worst day. He cooks like he's the head chef at a five star restaurant. And he also comes up with a solution to Rosie's predicament: he'll go on four dates with her to hopefully spark some romantic creativity in her uncooperative brain. But as Lucas wows her in their daily lives and on their "platonic" dates, they both end up with more feelings involved than expected. And that could spell trouble for when Lucas heads home to Spain, leaving behind the one person he can't see himself without.
'Rosie was out of my league. Women like her didn't go around with men that had lost so much, who had nothing left to offer. Men that wouldn't even stay in the country for more than a few weeks.'
Author Elena Armas will surely have your heart skipping a beat with this modern, sensual romance that was achingly sweet and absolutely delightful. Be prepared for The American Roommate Experiment to take the fake dating trope to a whole new swoony level.
My hands tightened against her wrists as I leaned down, and I pressed my lips on her skin when I said, "I want to do the noble thing, Rosie… But I'm finding it really hard when all I want to do is sinful things to you."
I know this is Elena Armas's second novel but to me it already feels like she's perfected the art of the slow burn romance. Seriously. Lina and Aaron in The Spanish Love Deception started it all off. (Yes, they made appearances in this book!!) And now Rosie and Lucas have put their own spin on fake dating as well as slowly but surely falling in love over time. I loved that they became close friends right away. And that Lucas–in his kind, protective, caring way–offered to help Rosie break her writer's block by going on "experimental" dates with her. Of course as a reader, I could see where it was headed: straight to complicated and awkwardness. But Rosie and Lucas went into it with the best of intentions so I couldn't fault them for trying to keep it platonic.
As with her debut, Armas created a story that had me so wrapped up in it that I didn't want to see it end. With some characters we've already met–Rosie, Lina, Aaron, Lucas's family in Spain–and some awesome additions (Adele and Olly, to name a couple), it felt like we were immersed in the cast's lives and like they could be our own friends or neighbors. Rosie ended up being as loyal and charming as I knew she'd be after watching her have Lina's back in book one. Although my heart broke for her a couple of times here. But her struggles only proved just how strong Rosie was when she picked herself back up each time.
Then there was Lucas. Talk about the perfect–well, almost perfect–book boyfriend! He was sexy, compassionate, talented, selfless, did I mention sexy?, and unfortunately was a bit of a tortured soul after a fairly recent accident changed his life. It was so interesting to see how Lucas and Rosie took care of each other. Considering they were the ones who usually took charge of family and friends, it was something new for them to have someone take care of them instead. Even though that created a few problems. But I think readers will adore how Rosie and Lucas's romance worked out in their sigh-worthy ending filled with *three* grand gestures.
QOTD: Would you go out on a platonic date with someone as an experiment to help them with research?
Book Info:

Publication: September 6th 2022 | Atria Books | Spanish Love Deception #2
From the author of the Goodreads Choice Award winner The Spanish Love Deception, the eagerly anticipated follow-up featuring Rosie Graham and Lucas Martín, who are forced to share a New York apartment.
Rosie Graham has a problem. A few, actually. She just quit her well paid job to focus on her secret career as a romance writer. She hasn't told her family and now has terrible writer's block. Then, the ceiling of her New York apartment literally crumbles on her. Luckily she has her best friend Lina's spare key while she's out of town. But Rosie doesn't know that Lina has already lent her apartment to her cousin Lucas, who Rosie has been stalking—for lack of a better word—on Instagram for the last few months. Lucas seems intent on coming to her rescue like a Spanish knight in shining armor. Only this one strolls around the place in a towel, has a distracting grin, and an irresistible accent. Oh, and he cooks.
Lucas offers to let Rosie stay with him, at least until she can find some affordable temporary housing. And then he proposes an outrageous experiment to bring back her literary muse and meet her deadline: He'll take her on a series of experimental dates meant to jump-start her romantic inspiration. Rosie has nothing to lose. Her silly, online crush is totally under control—but Lucas's time in New York has an expiration date, and six weeks may not be enough, for either her or her deadline.