In Wait Until Dark (Maximum Security #0.5) by Kat Martin, when April Vale is found beside a dead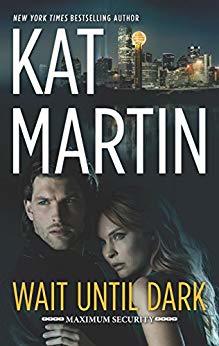 body she knows she didn't have anything to do with, she turns to private investigator Jonah Wolfe to find the truth. However, when things don't progress as quick as April hopes, will they risk their chance at happy ever after to discover the truth?
Jonah straightened. "You were under arrest?"
"Officially, I haven't been charged yet. But the charge could be murder."
What a fast-paced, compelling read Ms. Martin has delivered in this novella, which opens her Maximum Security series and gives readers knowledge of the security company Jonah works for and the kind of cases they work, which are interesting. Yes, I can tell you that, especially after reading the first full novel of this series as well called The Conspiracy. The way this story started had my sympathizing with the heroine immediately, as what happens to her is scary. Yet, I liked that she's resilient and handles the situation the best way she can. Really, the best defence is a good offense and turning to Jonah is her best option. However, it was from the moment the hero and heroine comes face-to-face for the first time where this story really takes off, as April really needs Jonah's help.
As for the dialogue, it was intense and entertaining due to the main characters back stories and I enjoyed the way this story unravelled, as finding the person framing the heroine isn't easy. Will Jonah be able to help April get to the bottom of the situation or will desperate times call for desperate measures? Will the only way April gets to the truth is by putting herself in danger? Will Jonah be able to keep April safe? Moreover, I absolutely loved the hero. He's strong, good at his job, and I liked how determined he was to help the heroine, even though helping her isn't going to be easy. Luckily, the hero has skills and good friends that help him any way they can. While the heroine, she's courageous in everything she does to clear her name and I could understand why she goes to the lengths she does to clear her name because she truly believes she's innocent, even though she has absolutely no recollection of what happened. No way could she have hurt anyone despite the evidence.
"It'll get better in time."
"I suppose so. You've dealt with that kind of thing a lot, I imagine. Maddie told me you were a cop before you became a private detective."
"That's right. Undercover work mostly."
"Why'd you quit?"
He usually dodged the question. For reasons he didn't quite get, he found himself answering instead. "I got my partner killed."
Overall, Ms. Martin has delivered an interesting and fascinating read in this book where the chemistry between this couple was strong; and the romance was heart-warming and shows how good April is for Jonah and vice versa; yet the ending I felt was a bit rushed with the tiny bit of edge-of-your-seat suspense and the hero making things right with the heroine. Still, it was a good ending, despite me having unanswered questions. What was the bad guy's punishment? Did the heroine quit her job after everything she went through? I would recommend Wait Until Dark by Kat Martin, if you enjoy romantic suspense or books by authors Laura Griffin, Debra Webb, Geri Krotow and Brenda Jackson.
Book Info:

Publication: November 1st, 2018 | HQN Books | Maximum Security #0.5
Private investigator Jonah Wolfe knows trouble when he sees it. So when April Vale storms into his office at Maximum Security, all his warning signs flash red. April's been accused of murder, except she has no memory of how she woke up in her coworker's bed—drenched in his blood, as he was shot with her gun. As the campaign manager for the mayor, April's job and life are on the line if she doesn't figure out who's trying to frame her. But the clock is ticking, and the pair must find the murderer…before April winds up dead.