In The Art of Sinning (Sinful Suitors #1) by Sabrina Jeffries, Lady Yvette Barlow knows she's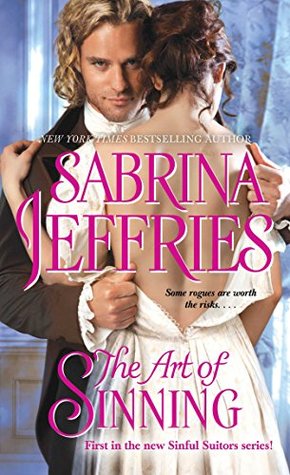 not a delicate flower like the other simpering women who abound in London society. Her height, her intelligence, and her boldness seems to put off respectable gentlemen. So when American artist Jeremy Keane shows an interest in Yvette, with his sinful charm and slick words, she immediately discounts him as a rogue. But he could be means to an end, when Keane helps her find a woman tied to her rebellious brother Samuel's past, and he chooses Yvette to pose for a special painting. What harm could that possibly cause? As it turns out, quite a lot.
"Don't you want to sin with me?" Oh, Lord, she couldn't believe she'd blurted that out.
His face went stony. "The art of sinning isn't for novices, my lady. I have neither the time nor the inclination to teach it to an innocent."
Jeremy has enjoyed his time abroad working on commissioned paintings but he's still searching for the perfect model to pose for a painting he feels compelled to do. When he spies the woman who matches his vision perfectly, Jeremy sets out to gain her approval, not knowing the events it will set into motion. He finds himself agreeing to help Lady Yvette with her search into her brother's past if she will pose for a couple of his paintings. Between befriending her brother Edwin, trying to stay clear of returning to his family's business in America, and his lust and growing feelings for Yvette, Jeremy feels well and truly out of sorts and isn't sure how best to deal with it.
"Give me what we both want. You want me in your bed, and I want one blessed night with a man who likes what he sees when he looks at me, who doesn't think me shrewish or ungainly or too bold."
Thunderation. "You're being too bold now," he pointed out, though it fired his blood as nothing else could.
The Art of Sinning was an absolutely charming historical romance from Sabrina Jeffries. Our hero and heroine's relationship began with a battle of wits (okay, that part never stopped!) and eventually became equal parts smoldering passion and tender romance.
"Ah, my pretty wanton, you inflame me," he breathed against her lips. "I could taste and touch you for hours. You're so damned lovely."
…This was how seduction began. A woman fell in love with the feelings and forgot herself. It was dangerous, close to the edge…alarming. She must stop this.
What a great way to start off a new series. With ties to The Duke's Men, another of Jeffries' series, this introduces us to a whole new cast. The focus here was Jeremy Keane and Lady Yvette Barlow who may have seemed to be an unlikely pair but they were very well-suited. I loved that there was much more depth to both of these characters than you would assume. American painter Jeremy was a bit moody while also giving the impression that he was something of a rogue, but he actually had a kind heart. And Yvette wasn't your typical English Lady. Her hobby was collecting 'street cant' or slang to use in updating dictionaries, and she didn't care what anyone thought of her pursuits.
I thought the storyline with past events in both Lady Yvette and Jeremy's lives coming around to haunt them again was extremely interesting. Both were fairly traumatic events so the memories and issues were a little dark, but with the discovery of their newfound feelings and their wonderful bantering, I didn't think it made the overall tone too heavy. Aside from the delicately detailed romance scenes, my other favorite part of this story was the dynamic between all of the characters. Jeremy's daily relationship with his apprentice Damber was hysterical but their loyalty to each other showed loud and clear. And I enjoyed Yvette and her brother Edwin protecting each other as well. Theirs was a complicated but ultimately loving sibling bond that continued to grow before our eyes.
I truly had so much fun reading The Art of Sinning. From Sabrina Jeffries' masterful writing style to the completely engaging characters, I didn't want to put this story down. Or for it to end. Highly recommended.
Book Info:

Published July 21st 2015 | by Pocket Books | Sinful Suitors #1
American artist Jeremy Keane refuses to return home and take over his father's business. He'd much rather sample bevvies of beauties abroad, in search of a model for the provocative masterpiece he's driven to paint. When he meets Lady Yvette Barlow at a London wedding, he realizes she's perfect for his work—and determines to capture the young heiress's defiant spirit and breathtaking sensuality on canvas.
No stranger to scandal, Yvette agrees to be Keane's subject—in exchange for his help gaining entry to the city's brothels he knows intimately, so she can track a missing woman and solve a family mystery. But when their practical partnership leads to lessons in the art of sinning, can they find a bold and lasting love?