In In the Line of Fire (Pytheon Security #3) by Joss Wood, Samantha Stone has known the loss of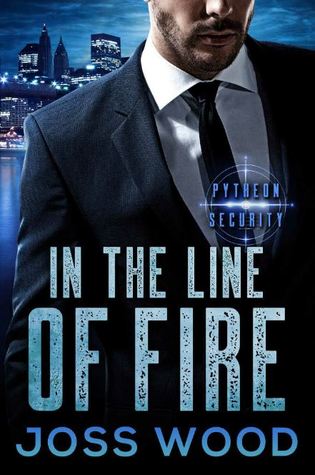 someone she loved and she's not about to make the same mistake again. Not when security expert Jett Smith-Jones reminds her of the first man she ever loved; a man born to protect others and run into danger when needed. Yet, there's something about Jett that she can't resist. However, with someone determined to hurt Sam, there's no room for distractions. Will Samantha take a chance on Jett, so they can achieve happy ever after; or will the person after Samantha disrupt their plans for the future?
"Not you type, princess," Jett said, a smile lifting the corners of his mouth.
"You have no idea what my type is," Sam retorted.
Jett dropped his head to touch the corner of her mouth with his, sending shivers dancing over her skin. "Yeah, I do. And I'm it."
Sam stepped back and sent him a long, cool look. "You really should talk to someone about your delusions, Legend. They are not healthy."
With this series, although each book can be read as a stand-alone, I've found that by having read the previous books I've had a better understanding of the Pytheon team and what the security experts are all about, as they've dealt with some pretty tough criminals so far, and now, they're up against their toughest bad guy yet with someone determined to eliminate Samantha and her brother. Will Samantha and Jett come out on top against the bad guys? Will she be able to handle all the strikes the bad guy launches at them?
As for the way this story started, it sets the fast-pace of the story, and had me very intrigued by this couple's intense chemistry and the danger the hero and heroine face on their journey to happy ever after. Will they finally take down the person known as 'The Recruiter'; someone that has been working against them and causing trouble for Pytheon? Will Jett be able to keep Samantha safe? Moreover, the heroine is resilient and courageous and I liked how determined she was to take control back of her own life when it seems she may never be safe again. I also liked how she challenged the hero because he's everything she doesn't want in a man. Not when she's already had someone like him and lost that man and isn't willing to take the risk again. How soon will Jett change her mind? Yet, what I liked most of all about the heroine is how she handled everything she goes through, especially since she's shocked by who is responsible for everything that happens?
While the hero, he's done a lot of good over his years and I liked his nickname, as it proves he's done some extraordinary things in his Delta Force career. I also liked the hero's confidence and determination to keep the heroine safe, which isn't easy as someone is very determined to see that Samantha is silenced. Yet, what I liked most of all about the hero is that he wasn't afraid to turn to elsewhere for help because Samantha is important to him and there's no way he's going to let either of the people after her win without a fight. Luckily, Samantha provides such a good challenge for Jett with her sassiness and is determined to make decisions for herself, especially when it comes to putting an end to the danger coming after them once and for all.
"I'm trying to keep you safe, Samantha."
"You can keep me safe and still talk to me, Jett," Sam said, her voice revealing the hurt under her sass.
"That's me trying to keep myself safe."
"Safe from what?" Sam asked.
"You. Feeling too much, wanting too much. Getting my a** kicked when this is all over," Jett stated, resting the side of his face on her chest.
Overall, this author has delivered an intriguing and riveting read in this book where the main characters have plenty of chemistry between them because of the heroine's need to challenge the hero; the romance was hot and had me liking that Sam took a chance on the hero, despite all the reservations she had about getting involved with another man with the need to play hero; and the ending had me on the edge-of-my-seat due to the suspense and worry for one of the main characters, but had me liking how things worked out for Jett and Samantha, especially because of the choice the heroine made to be with Jett. Will she be able to handle him putting himself in danger as an agent with Pytheon? I would recommend In the Line of Fire by Joss Wood, if you enjoy romantic suspense or books by authors Cheyenne McCray, Suzanne Brockmann, Cristin Harber and Kathy Clark.
Book Info:

Publication: February 8th, 2018 | Tule Publishing | Pytheon Security #3
It just got personal…
As the Delta Force legend at Pytheon International, security expert Jett Smith-Jones has run out of leads in his effort to capture criminal mastermind, The Recruiter, the head of a notorious, international human trafficking and recruitment ring. The Recruiter remains one step ahead but when he threatens the principal players at Pytheon, including Dr Samantha Stone, the game is back on. Jett, while valiantly trying to ignore his visceral attraction to the fiery red head, is determined that she have the best protective detail Pytheon can provide. He is the best they have.
PhD Samantha Stone has been tasked to profile The Recruiter's next move as a consultant of the psychology of criminal behavior. Too bad she can't discern her attraction to the hard-eyed Delta Force legend. She avoids men who chase danger, but she can't stop dreaming of falling into Jett's very muscular arms. Unfortunately for Sam, The Recruiter isn't the only criminal wanting a piece of her…
As they tighten the net around The Recruiter, the risk to Sam increases. Jett vows he will keep her safe, but who will protect his heart? And will Jett prove to pose the biggest danger to Sam of all?