The Beat Match by Kelly Siskind: Typically, a romance novel that features an orphan, whose rich Prince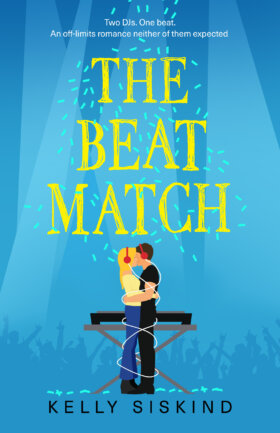 Charming falls madly in love with her, pulls me up by page 5. The Beat Match however, had some creative quirks and a decent dollop of social morality that page 6 rushed past quickly to deliver a satisfying end dance swoony ending.
Annie, a free-spirited whirlwind of chaotic delight, with a penchant for scrapbooking and quitting when things get sticky, is a solo gal whose early years were punctuated by junkie parents and a protective brother Leo. For Annie, her challenging childhood extends into her teenage years after Leo is shot randomly in a night club with only Weston Aldridge, his best friend by his side to promise he'll take care of Annie forever and day as Leo draws his last breath. And Weston holds true to his promise.
Despite being the son after a multi-millionaire Pharmaceutical Company owner, Weston flogs himself by day, and takes on the masked persona of the Falcon, a high profile mysterious DJ who mixes wild beats by night, all the while protecting Annie in every way he knows how. Until one night, at the club, hidden behind his Falcon masks, he spies her dancing wildly and the thrum of desire begins to beat through his body. Whilst both sit squarely in denial land for a bit, their relationship begins to change shape, and Annie, inspired by the music scene begins to seek Falcon out as a Djing mentor, unaware of the true identity of the music mixing mastermind.
Given the solid moral backbone and using music as a way of communicating gun control issues to an audience in lieu of Leo's tragic death, The Beat Match moves beyond the stock standard and makes the most of its characters' grief. Both Wes and Annie struggle to talk about Leo as the past is far too painful for both of them. And regardless of being shaped by their pain, both characters are still doing their best to live fulfilled lives unaware that fear of loss is still an underlying current that either could get swept up in at any juncture. Well written, well sequenced, well paced, Beat Match had some clever action kernels and tension bursts that provided further substance and depth despite some over-the top declarations of love and adoration. If you like your Romance to have a little dollop of social conscience then launch into Beat Match's sweet rhythm and dance through the pages like nobody's watching.
Book Info:

Publication: 16th September 2020 | CD Books | Showmen #3
Weston Aldrich is known for his devastating looks and crisp Italian suits. He's been groomed to take over his family business and is on the brink of closing a massive merger. Only two wild cards can derail him.
Wild Card One: If anyone learns he moonlights as a masked DJ, his credibility will be toast.
Wild Card Two: Annie can't-hold-a-job Ward.
The Annie Ward he promised to help raise after her brother died. The scatterbrained girl who makes it her mission in life to drive him crazy. The gorgeous woman he's not supposed to fantasize about, let alone kiss.
Annie hates Wes's insanely overprotective nature, and how his ridiculous bone structure makes him look like a Greek god. His jokes about her plethora of jobs are beyond irksome. She has no plans to tell him about her latest aspiration, to match beats as a budding DJ. Until she learns what Wes does at night. Now she plans to prove Weston Aldrich has met his match.