Tempted by Love by Melissa Foster: Love, laughter and sexy times: entertaining first salvo in Melissa Foster's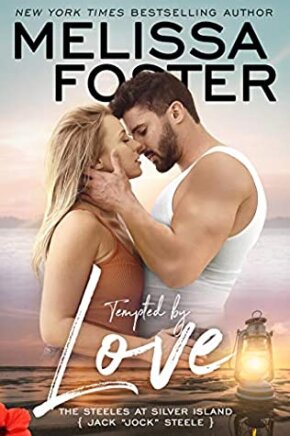 new series, The Steeles of Silver Island.
Daphne Zablonski is a divorced single mom who loves her almost three-year-old daughter Hadley with all her heart. Hadley always comes first. Her ex-husband left her and Hadley one week after Hadley's birth because he never wanted to have kids. (What a jerk!) That was a tough time for Daphne to get through but she feels she has come out of it a stronger, better person and a good mom. She enjoys her job as the office administrator at the Bayside Resort. This is where her friends are and Daphne really enjoys their companionship and their breakfast get togethers before she starts work. Lately she has been a little bit distracted though. Maybe more than a little bit! Jock Steele is staying in the cottage across from her apartment above the Bayside Resort's main office. There's just something about him. It seems that Hadley has a thing for Jock too. Unfortunately Jock doesn't have a thing for Hadley. He backs away from her every time she runs to him. So this attraction she has for Jock can't go anywhere. She and Hadley are a package deal.
Jack "Jock" Steele is still getting over the death of Harvey Fine, his philanthropist friend who Jock cared for the ten years prior to Harvey's death. Jock had been lost and as low as a person can go after the accident that killed his girlfriend Kayla and their baby boy. On top of that his twin brother Archer who was Kayla's best friend blamed Jock for their deaths so the brothers have been estranged for ten years. Harvey helped bring Jock back from his despair. His past is an absolute mess. Then Jock met Daphne and something just clicked. He was so attracted to her but she has a daughter and Hadley's attempts to get his attention trigger his fear of failing to protect his son who died in his arms. Daphne and Hadley deserve better than him.
Tempted by Love by Melissa Foster is the first book in her Steeles of Silver Island series. Melissa Foster always delivers an emotionally satisfying read and this is one of her finest. Her characters are very realistic and likable. Daphne and Jock have pasts that have greatly affected their lives. Their relationship leads them both to a good place where they understand each other and know quite well how it feels to be hurt. I really enjoyed the back and forth bantering between Daphne and Jock, especially the fun sexual innuendo. Little Hadley just about steals the show as she is the cutest little girl ever. The Steeles of Silver Island series starts out with a winner!
Book Info:

Publication: September 9th 2020 | World Literary Press | The Steeles at Silver Island #1, Love in Bloom #78
Jack "Jock" Steele
Enjoy heart-meltingly beautiful and toe-curlingly sexy romance in Tempted by Love, an emotionally riveting story about a man who has lost it all and carries a torturous secret, a divorced single mother who has everything to lose, and the little girl who helps them heal. Fall in love on the sandy shores of Silver Island, home to coffee shops, boat races, midnight rendezvous, and the sexy, sharp-witted Steeles.
In TEMPTED BY LOVE…
Years ago, bestselling author Jack "Jock" Steele lost his girlfriend and baby in a horrific accident that drove a wedge between Jock and his family, keeping him from sharing a devastating secret. An aging philanthropist saved him from the brink of despair, and for a decade Jock cared for his ailing friend who became his family. Now his friend has passed away and left him a fortune—on the condition that he publishes another book. Jock is floundering, unsure how to rebuild the life he'd walked away from, much less find his muse, have another relationship with a woman, or even think about having a family of his own. But he can't get his sweet, sexy new friend, single-mother Daphne Zablonski out of his head, and her adorable toddler must know something he doesn't, because she wraps her tiny fingers around his heart and won't let go.
Daphne has been through the wringer with her ex-husband and doesn't believe true love is in the cards for her. Friends she can handle, but letting a man see her mom bod naked? Especially someone as strikingly handsome and unbelievably sexy as Jock? No, thank you. Besides, she has a toddler to chase after and enough fictional boyfriends to fill her lonely nights. If only her book boyfriends could make her body tingle the way one look from her mysterious neighbor does.
As Jock and Daphne's friendship turns to something too tempting to deny, their lives take an unexpected turn. Can a man who has lost everything find redemption with a woman who has everything to lose? And then there's that secret…
More Steeles at Silver Island are coming soon!
TEMPTED BY LOVE (Jock)
MY TRUE LOVE (Jules)
ALWAYS HER LOVE (Levi)
ENTICING HER LOVE (Sutton)
CAUGHT BY LOVE (Archer)
WILD ISLAND LOVE (Leni)