The Meeting Point by Olivia: Maya is an aspiring writer, with a flare for creating the perfect happy ends for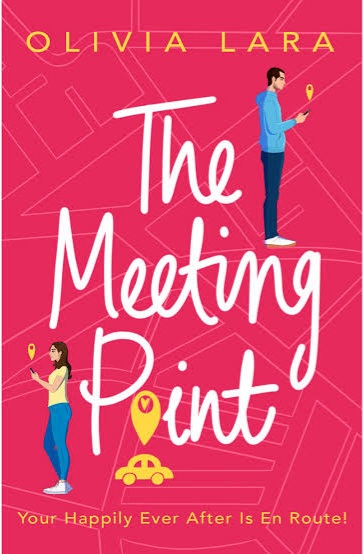 random people she sees in life, however when it comes to her own happily ever after Maya seems to be having some major issues. After being fired from her job and finding out that her long time boyfriend is cheating on her, Maya decides to throw caution to the wind and go along with the advice of Lift driver Max. Which leads Maya to one amazing day exploring the beautiful sea side town of Carmel, with the help of Max, Maya soon finds herself believing that she might just find her own story book ending.
Fast forward a year and Maya still can't seem to get Max and their text-filled adventure out of her mind, but when she hears that someone has written Max and her story, Maya is determined to get to the bottom of how this Ethan guy knows so much about her story and to find Max! Carmel is just as beautiful as she remembered but finding out the true identity of Max is proving to be a lot harder than Maya had expected, especially with Ethan being determined to protect the identity of his friend and him being so annoyingly charming. With each interaction Maya finds herself being torn between warming up to Ethan and needing to find Max, what happens when she finally learns Max has been right in front of her all along?
Oh this book just called to my romance loving soul! The Meeting Point was pure swoony romance loving perfection! I loved every single moment of Maya's story told entirely from her perspective right up until the end where we get to see a bit of the story through the eyes of our hero. I loved everything about this book from the cute concept to the beautiful sea side town of Carmel, it was so easy to get absorbed into all of Maya's carefully planned adventures.
Maya was such a great character that I grew to love and root for more and more as the story progressed. There were a few times that I wanted to shake some sense into her. I absolutely adored that she would try and create happy stories for random people she came across and sometime try and push them into their own little happily ever after in real life!
The true star of this novel has to go to our hero Max/Ethan. Firstly how cute and kind was it for Max to set up the little adventure for a complete stranger just so that she could have a nice birthday? Ok, I will say that it was pretty obvious that Max was actually Ethan all along, but gosh it was cute watching Ethan try to show Maya who he was without really telling her. I loved that Maya made such a big impact on him that he actually wrote an entire book about their love story and never changed her name.
Part of what made this novel all the more charming was that it had a book within a book and this only added to the romance factor. I loved that for a change this was a completely clean read and the lack of steam didn't take way from such a brilliant story!
The Meeting Point has firmly taken a spot in my top ten reads of 2021, this book is not to be missed!
Book Info:

Publication: September 2nd 2021 | Aria |
What if the Lift driver who finds your cheating boyfriend's phone holds the directions to true love?
'Who are you and why do you have my boyfriend's phone?'
'He left it in my car. You must be the blonde in the red dress? I'm the Lift driver who dropped you two off earlier.'
And with these words, the life of the brunette and t-shirt wearing Maya Maas is turned upside down. Having planned to surprise her boyfriend, she finds herself single and stranded in an unknown city on her birthday.
So when the mystery driver rescues Maya with the suggestion that she cheers herself up at a nearby beach town, she jumps at the chance to get things back on track. She wasn't expecting a personalised itinerary or the easy companionship that comes from opening up to a stranger via text, let alone the possibility it might grow into something more..